Exhibit debunks Native American fallacies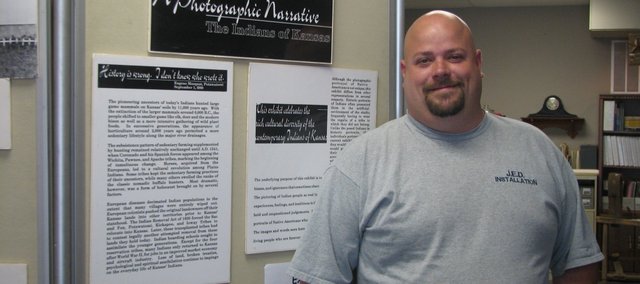 The Basehor Historical Museum's July exhibit is now open for viewing.
"The Indians of Kansas" is a photographic narrative featuring pictures and stories from several Native Americans of Kansas.
According to text in the display, "the underlying purpose of this exhibit is to sweep away the misconceptions, biases and ignorance that sometimes obscure peoples' understanding of each other."
Rather than the stereotypical tribal wear, this exhibit's photographs depict each person the way he or she chose and characterizes each person in his or her own words displayed below the pictures.
Chairman of Basehor Historical Museum Society Board Ken Massingill said the museum sought this exhibit from the Kansas State Historical Society because of the relevance of Native American history in U.S. history.
"Indian culture is an extremely valuable part of our heritage, especially in this area," Massingill said. "We try to have a variety of exhibits here, and this was something we really wanted to include."
One of the Native Americans featured in the exhibit is Clay Cerday, of the Comanche tribe in Oklahoma. Cerday was initiated into his tribe to be a medicine man, the display explains, but he took a different path and came to Wichita during the 1930s to attend the American Indian Institute.
"Back then, being Indian, it really hurt," Cerday is quoted as saying under his photo. "Now it doesn't. I've been well accepted in the white community. I've had my fun, white on this side of the fence, Indian on that."
After earning his master's degree from Tulane University, he worked with juvenile offenders in Kansas and was later instrumental in eliminating the state's mandatory retirement age, the exhibit says.
Another of the exhibit's pictured Native Americans is Charles "Little Coyote," of the Southern Cheyenne tribe in Oklahoma. He served many years in the military, the display says, and eventually settled with his wife in Medicine Lodge.
"It feels good to be here," he is quoted as saying about Kansas. "I have a lot of friends. But I'll tell you something, I know what it's like to be turned down because I'm Indian. Since I've been in Kansas, I've never been turned down."
"The Indians of Kansas" is sponsored by JED Installation of Basehor and will be on display at the museum, 2812 N. 155th St., through the month of July.
Visitors are welcome to view the exhibit anytime during the museum's business hours, 9 a.m. to noon Tuesdays, 1 p.m. to 4 p.m. Thursdays and 9 a.m. to 2 p.m. Saturdays.
For more information call the museum at (913) 724-4022, or e-mail bhms@sunflower.com.