Rain dampens July 4 celebration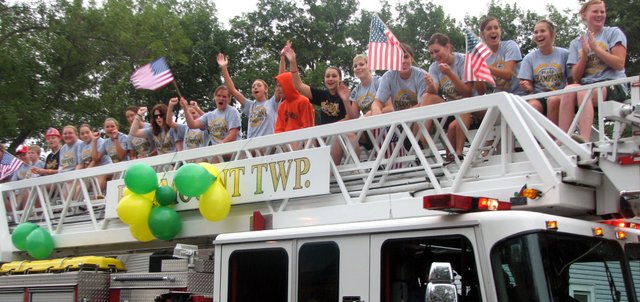 Photo Gallery
2010 Basehor July 4 Parade
Despite the less than ideal conditions, the Basehor July 4 parade splashed through downtown Sunday as onlookers viewed underneath umbrellas.
The parade featured several traditional aspects — such as the mayor leading the way and the Basehor Veterans of Foreign Wars waving from a car-drawn wagon — but spectators also had a few new eye catchers like the Basehor-Linwood High School softball champions and Shriners clowns throwing candy.
"We're not going to let a little rain ruin our parade are we?" announcer Julian Espinoza asked and to which he received an enthusiastic "no" from attendees.
Basehor Gold PRIDE won "best car" in the parade that day, Don Mayberry won "best antique car" with his 1930 Model A Ford, and bicycle riders Beth Espinoza and Terina and Tiara Bailey won "best theme" for their patriotic costumes.
Event organizer Chuck Wilderson, of Gold PRIDE, said the parade was a success regardless of the raindrops.
"We got a little damp, but I think people enjoyed it," Wilderson said. "We had a better turnout for the parade this year than last year and the last three years. There were three special things this year with the Shriners in the parade and the softball team and all the young people like the Boy Scouts. It was a nice year to get a younger generation involved."
After the parade, community members gathered at the high school for games and concessions with hope fireworks would soon burst into the air. Shortly after 8 p.m., however, rain was coming down in sheets, and the live entertainment, Citizen of the Year presentation, color guard, National Anthem and fireworks were canceled.
"We waited as long as we could on the fireworks, but it really poured," Wilderson said. "Now we'll take advantage of the rain date."
The rained out events will take place at the following times Saturday, July 10 at the high school.
• 8 p.m. Small concessions
• 8:30 p.m. Basehor Chamber of Commerce presents Citizen of the Year Award
• 9 p.m. Basehor Veterans of Foreign Wars presents the colors, National Anthem
• 9:15 p.m. Fireworks display
While the weather got the best of part of the actual Independence Day in Basehor, Wilderson said the makeup date was sure to be just as entertaining.
"It was disappointing to have to cancel events (July 4), but we're hoping people come out to watch the Citizen of the Year and watch the fireworks Saturday," he said.
All July 4 activities are organized by the Basehor PRIDE group and sponsored by the Basehor Chamber of Commerce, the Basehor Lions Club, the City of Basehor, PRIDE and Gold PRIDE.