Statewide smoking ban debuts with positive feedback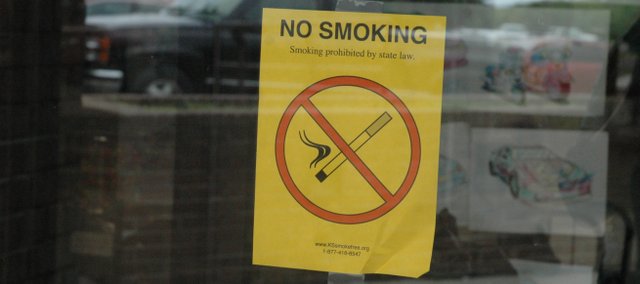 The July 1 onset of the Kansas statewide smoking ban has Basehor business owners and customers talking, mostly about its positive effects.
The ban, which was signed into law by Gov. Mark Parkinson earlier this year, prohibits smoking in bars, restaurants and workplaces. This also includes private clubs licensed after Jan. 1, 2009.
Kelley's Grill and Bar owner Bill Buchholz said the smoking ban has increased his patronage, bringing in a new group of nonsmokers that otherwise would not have stopped by the eatery.
"If anything, it's helped our business," Buchholz said. "People who knew we had a smoking section wouldn't come in before, but now they know there's no smoking allowed in the whole restaurant, and they're starting to come in."
On a smaller scale, Buchholz said the ban could decrease Kelley's beverage revenue with smoking customers leaving quicker than usual.
"I have noticed the people who smoke don't stay as long anymore, so we might be affected as far as drink sales," he said.
Basehor restaurant-goers Jacki Himpel and Aladdin Ashkar say they are pleased to see the smoking ban going into effect.
"I am thrilled about the new smoking ban," Himpel said. "I don't like to be around smoke at a restaurant, but I can't imagine what it is like for the employees who are around it for an entire shift. Their lives are at risk from the second-hand smoke. I understand that cigarette smoking is one of the hardest addictions to break, but the negatives of smoking affect so many innocent bystanders. I can understand businesses being concerned about revenue losses, but there are studies to support both sides."
Similarly, Ashkar said he supported the ban because it would give him and his family more options for eating out in and around Basehor.
"I'm in total support of the statewide smoking ban," Ashkar said. "We have two small boys and we avoid frequenting places that have smoking sections. This ban just makes good sense for a healthier environment and a healthier state."
The only negative reactions Buchholz says he has heard from his customers concerns the scope of the smoking ban, which exempts state-run casinos.
"I have had a few people say they don't think it's right to rule out casinos," Buchholz said. "If you're going to enact it, enact it for everyone. But other than that, everyone's taking the ban fine. The smokers are accepting it with no problem, and the non-smokers are happy."