Students' baby casket project 'not like anything else'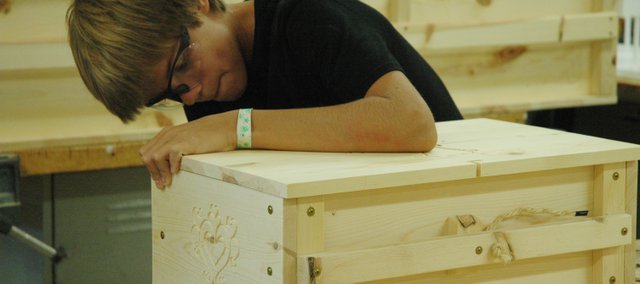 As the lining of the first infant casket was stapled into place and a tiny pillow and blanket was laid out, its builders at Bonner Springs High School paused to look over their work.
"We all just kind of stepped back and had to take in a deep breath after seeing it all come together," said BSHS woodshop teacher Kris Munsch.
The intensity of the students' project became a reality at that point as the final resting place for a future infant was complete.
The infant caskets are the newest project thought up by Munsch, who has stretched the limits several times when it comes to a traditional high school wood shop class.
The idea for the "burial cradles," as the students call them, came from an e-mail Munsch received inquiring about his students' ability to build adult-sized, simple pine caskets to be used in the growing trend of "green" funerals.
Because, Munsch said, no one in the area was making such caskets, he looked at the opportunity as a money-making business to benefit his classes' future projects.
Then came another e-mail, and suddenly the project took a turn.
Munsch said he learned about families in the area who weren't able to afford caskets for their infant children who died from one reason or another. Mentioning this fact in passing to a few students led to the idea of shrinking down the adult version of the casket they had made into an infant-sized casket that could be donated to those in need.
"At first (some of the students) were a little scared," Munsch said. "They said, 'If the big one is that sad to make, I can't imagine what the little ones will be like.'"
But Munsch said that fear subsided quickly, and as he asked for volunteers to come in during the summer to work on the project, the response was overwhelming.
Ethan Hook, 16, helped Munsch make the first prototype of the infant casket. He said he and Munsch worked on several projects throughout the years and had an understanding.
"I wasn't surprised," Hook said of the idea to make infant caskets. "It was something Munsch would do."
Hook said the project was "a pretty big deal" to all the students involved. He said other people may be surprised by the project, but he and his fellow students knew they were doing something truly special.
"This is not like anything else," Hook said of the various wood projects he's made in Munsch's classes. "We're giving them away to people who need them. It's not something we'd get to do every day."
So far, the volunteer students have made 22 caskets, which will now be stored at the school and given away as Munsch receives notification of a family in need. Community members throughout Bonner Springs who have gotten heard of the project have also offered their help.
DiAnne Berning made all the liners for each casket, and her sewing group made the pillows and blankets. Vesta Lee Lumber also donated some supplies to get the project going.
Other community members, as well as the students making the caskets, have been recruited to write condolence cards that will be placed in each casket, so the families who receive them will know the heart put in to the work by its builders.
But before the first piece of wood was ever cut, Munsch said he thought it was important to sit the students down and attempt to explain the depth of the project.
"I said, 'We're getting ready to start something that probably no other high school students in the country have ever done,'" Munsch said. "It's a way to teach teenagers about grieving, about mortality, about community service."
Munsch, whose son died from a car accident in 2005, said not only has the project been healing for him, but teaching his students about the grieving process has been an important aspect.
He said often when people hear of someone's tragedy, they run the other way, not knowing what to say to the person. But, Munsch said, this project shows his students actions truly speak louder than words.
"It doesn't matter how old you are," Munsch said. "You can make a difference in someone's life."
To contact Munsch about the project, e-mail him at softpine@
thebirdhouseproject.com or go online to thebirdhouseproject.com and click on the Soft Pine link.