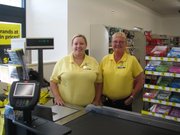 Basehor can now count itself in the hundreds of cities giving a home to a popular nationwide chain.
The downtown Dollar General, 2404 N. 155th St., is now open for business marking the first new shopping option for Basehor residents since Wolf Creek Marketplace closed.
Emily Weiss, Dollar General Corp. media relations manager, said Basehor fit all the criteria for a new store, and the company was looking forward to watching its newest branch become part of the Basehor community.
"Dollar General assesses many factors when choosing new store locations," Weiss said. "Some of these factors include demographic trends, traffic patterns and customer needs, among others. Basehor was a great match for us. We believe we can deliver a convenient shopping choice to the community."
Negotiations with Dollar General and the city began around December 2009 when the company requested a change in the city's sprinkler codes to better accommodate its business. The Basehor City Council approved this change at its Dec. 21 meeting, giving the city an advantage in acquiring the new business.
Ground broke on the project in March, and Basehor officials are extremely happy to have this 9,014 square foot store open, said City Administrator Mark Loughry.
"We think it's great and are happy that our citizens have a place to shop right here in town," Loughry said.
Basehor's branch is in good company with the more than 8,800 Dollar General stores spread across 35 states. Weiss said the Basehor Dollar General opened to positive reactions and was on track to making a great addition in the chain.
"The new store has been well received by the community," Weiss said.
Dollar General's official grand opening with the Basehor Chamber of Commerce will be at 8 a.m. Saturday, July 17.
During the grand opening event, customers will have the opportunity to receive discounts and prizes. The first 50 shoppers at the store will receive a $10 Dollar General gift card, and the first 200 shoppers will receive a free Dollar General tote bag, among other giveaways.
The store will employ approximately six to ten people. Anyone interested in applying for a position at the Basehor store can go to dollargeneral.com for a job application.
For more information, call the store at (913) 728-2770.