Home of Braves football gets a facelift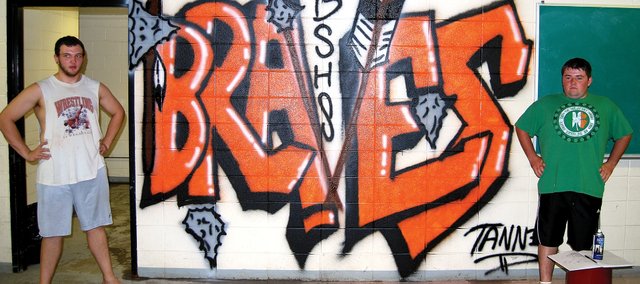 It's Friday afternoon, and the thermostat is flirting with 90 degrees.
It's an ideal day for swimming but, instead, about 10 Boy Scouts have gathered outside of the Bonner Springs High School football team's locker room.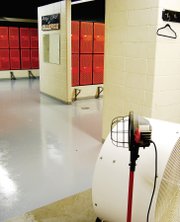 Rather than splashing in the pool, they are dipping paint brushes into cans and then sweeping them along wooden benches that have been pulled from the locker room. These are the finishing touches on BSHS senior Brandon Clark's Eagle Scout project, which is doubling as his senior project for the school.
A football player himself, the decision to upgrade the locker room was a personal one for Brandon.
"I'm part of the football team, and over the years I've always noticed it was in shabby condition and needed working on," Brandon said. "No one's ever really had the time or money to work on it, so I figured 'might as well. It'd be a good project.'"
Suffice it to say, the locker room won't look shabby when players report for practice on Aug. 16. The work is nearly complete, and the locker room facelift will give the Braves a cleaner, brighter, prouder home.
The process happened quickly. Brandon's parents, James and Linda Clark, had suggested various project ideas, such as doing work in a park or refurbishing a local cemetery, but those didn't appeal to him.
"He came home one day and said, 'Dad, I want to paint the locker room,'" James Clark recalled. "I graduated (from BSHS) in 1983, and the building still looks the same."
Not anymore.
Brandon brought up the idea with BSHS football coach Lew Kasselman, and he was in favor of it. Kasselman told Brandon to check with his senior project advisor to make sure it was OK.
"She thought it was a great idea," Brandon said, "So after that I had to talk to the athletic director (John Hilton), and he thought it was cool. I talked to the principal; he thought it was fine. The superintendent and school board approved it, and that was it."
Their message to Brandon was simple: Do whatever you want with it.
Brandon mapped out a plan: Repaint the room to make it cleaner and brighter, pull out the locker room benches and repaint them, and repaint a floor that had been torn up for years by football cleats.
He also wanted some sort of art on the wall to give the room a little more personality. Good friend and 2009 BSHS graduate Tanner McCleary volunteered to spray paint a mural on the wall.
Numerous local businesses chipped in with the materials. Bonner Springs High School provided the paint. Wal-Mart and Vesta Lee Lumber Co. contributed the spray paint. Sherwin Williams offered extra painting equipment. Numerous members of Brandon's Boy Scout troop gave their time to help. Bonner Springs City Band director Larry Berg volunteered to come teach the Scouts how to properly paint so the room would look good.
Then it was time to get to work. The coaches' office and training room were cleared out. Benches were removed. Hours of painting began. First, they painted the inside of the locker room. Then McCleary created his graffiti-style mural on the wall — the word "Braves" with arrows and a tomahawk attached to it.
"I had seen some of the work he'd done with windows and chalk on cars and houses, and I figured if he could do that, let's see what he can do with this," Brandon said of McCleary. "And it turned out really nice. We both thought it was better than what we expected."
"It's real special. Everyone here at the school is real into Braves tradition and stuff like that, so I think they'll be real happy to see it on the wall."
With the walls done, it was time to focus on the floor. A new layer of shiny, gray paint was rolled onto the floor, giving the locker room a polished look.
All that was left was the benches. That's what took place Friday. The benches were pulled out of their storage place in the visitor's locker room and painted outside.
Once the paint dries on the benches and the locker room floor, the benches will be screwed back into place and the room will be complete.
Then Brandon will eagerly count down the days until practice begins and his teammates finally get to see their refurbished home. He's looking forward to their reaction.
"I think 'elation,'" he said. "Everyone's just going to be completely surprised at how well this thing looks now."