Residents awarded for service to Basehor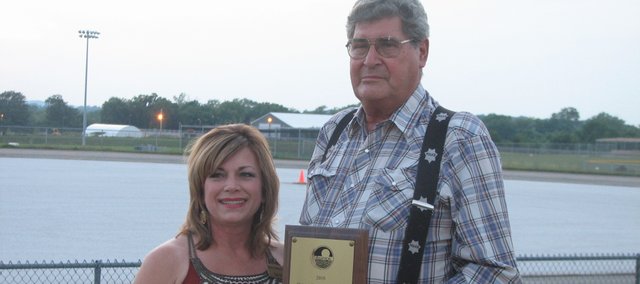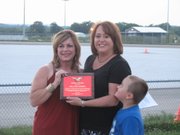 Though it was delayed a week, the Basehor Chamber of Commerce's announcement of its Citizen of the Year and Spirit award winners had quite an effect on the recipients.
During Saturday's rescheduled July 4 events at Basehor-Linwood High School, Chamber Vice President Deb Taylor surprised Don "Slim" Wilson and Melanie Morris with the awards.
As she began the Citizen of the Year presentation, Taylor read aloud from the nomination forms the chamber received for Wilson, Basehor's animal control officer.
"He has helped anyone who has had a pet or varmint problem for several years," she said. "He has helped citizens not only as a city employee but on his own personal time. He does this seven days a week without complaint. He has had medical issues in the past couple of years and it amazes me that he will still help someone between the doctor visits."
Wilson, who has served with Basehor animal control for more than 29 years, said he was completely stunned Saturday night when his name was called.
"I had no idea I'd won," he said.

Working with the city so long, Wilson has formed many lasting friendships in Basehor, and the award was quite special to him, he said.
"It meant a great deal to me," he said. "It's a pretty good honor to win that award."
The Spirit Award was bestowed on Morris for all her kindness and community endeavors, Taylor read from the nomination forms.
"She has been a part of several community events over the years and has given her time and talents to help the community grow in many ways," Taylor said. "She was in charge of Basehor Dairy Days in 2009 and participated as a member of the committee in 2010 and in prior years. She is a past board member of the Basehor Chamber of Commerce and actively worked to keep the chamber and regular functions in operation.
"She is a cheerful, beneficial part of each organization she works with, serving with great energy and enthusiasm. Her efforts and accomplishments reflect positively on her community and upon her self."
Like Wilson, Morris said she was touched by the unexpected gesture and appreciated such an acknowledgement of her work.
"I didn't know anything about it," Morris said of her winning the award. "It was overwhelming. I just thought, 'What?' It makes you feel good to be recognized for what you do in the community."