TV

host takes on local food challenge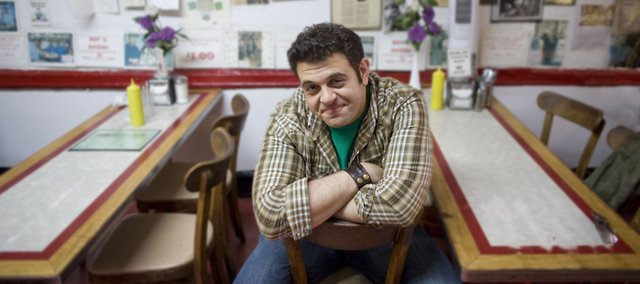 With a crowd of 120 people yelling, and the high-fives flying, Adam Richman makes his way to a single table at the front of Papa Bob's BBQ in Bonner Springs.
To his back, a crowd of locals watches intently and to his front, a television camera is set up ready to capture every bite. The reason the host of the Travel Channel's "Man v. Food" traveled to Bonner Springs is carried out of the kitchen and placed on the table.
It's the Ultimate Destroyer Challenge, a 12-inch sandwich, filled with four-and-a-half pounds of meat. Richman must finish the beast within 45 minutes to claim victory.
And from there, the mystery will remain, until viewers tune in to "Man v. Food "Aug. 11 to see whether Richman rose or fell to the challenge.
But until then, Papa Bob's owner Bob Caviar is reveling in the experience of having his small-town restaurant, 11610 Kaw Drive, featured on a national cable network show."It was wild in here," Caviar said of the day of filming. "Everyone was yelling and high-fiving, just having a good ole' time. (The television crew) really gets the crowd going."
The show's crew arrived in Bonner Springs on May 12, more than one year after the challenge was created as a way to draw in more business.
After several e-mails and website posts made by Caviar and local fans of the restaurant, the entertainment company for the show contacted the restaurant in January with the news it was being considered for the show.
"I didn't expect to hear anything," Caviar said of the messages he had sent the Travel Channel.
Even after the company called and said they would be filming in April or May, Caviar said he almost couldn't believe it was going to happen. But Caviar got down to business, cleaning up the restaurant and sending out invitations to the select group of people who would be allowed to attend the taping. Caviar said the entertainment company had specific rules about who could be present at the taping, so Caviar invited all the people who had either helped him create the sandwich or who had taken on the challenge, as well as some family and friends.
When the day of taping arrived, a huge storm was blowing through the area with heavy rains, thunder and lightening.
"We were worried about losing power," Caviar said. "We had a back-up generator but we didn't have any gasoline."
The crew got right to work anyway, Caviar said, and Richman made his appearance.
"What a nice guy," Caviar said of Richman. "This guy was top-notch. He was chit-chatting and making everyone feel comfortable. It was a really comfortable experience."
Caviar said the first half of the day, during normal business hours, Richman talked with customers about why they eat at Papa Bob's and the crew filmed the cooking process of the challenge sandwich.
"I thought it would just be a hand-held camera," Caviar said of the filming process. "But the camera had a tripod and there were lights and (microphones). It was full-blown, the real deal."
After a break, the real show began, when at 7 p.m. Richman made his way through the crowd and sat down to make his attempt at the Ultimate Destroyer.
The Ultimate Destroyer starts out on a 12-inch hoagie bun. First comes a half-pound of pulled pork and then a half-pound of hickory-smoked sliced pork. On top of that goes some of Papa Bob's sauce and two slices of bread. The sandwich continues with a half-pound of hickory-smoked ham and a half-pound of hickory-smoked turkey breast, which is followed with more sauce, two more pieces of bread and then three half-pound smoked hamburgers and some more sauce. Next comes a half-pound of hickory-smoked brisket and a half-pound of hickory smoked-barbecue sausage. For good measure, a last squirt of sauce is added.
The rules of the challenge are to finish everything on the plate, including the sandwich, fries and pickles, in 45 minutes without throwing up, and you get the $48 dinner for free and, of course, bragging rights.
Prior to Richman ever setting foot in Bonner Springs, several brave souls have taken on the challenge, none of whom have completed it.
If you want to see if Richman was able to break that record and complete the challenge, tune in to the Travel Channel at 8 p.m. on Aug. 11.
"The thing about (Richman) that impressed me most," Caviar said, "was how absolutely willing he was to connect with people. He'd just go up to anyone and start talking."
Caviar said he was impressed with the whole experience, especially with how the crew and Richman treated everyone throughout the process.
"He's just one of those types of people that after the challenge was over with, and he was miserable from eating so much, he still took time to sign autographs and take pictures with kids," Caviar said. "That's just something a special type of person would do."