Two of Basehor's best secure opportunities to play college baseball
Two cornerstones of the Basehor-Linwood baseball team for the last four years will be taking their gloves to the next level this fall.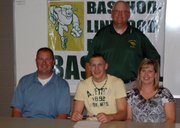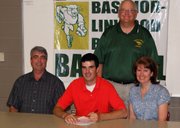 Ryan Lawless and Tyler Henley have signed to play college baseball at area junior colleges.
"These are a couple of kids that have been four-year starters and who have meant a lot to our program on and off the field," BLHS coach David Svoboda said. "These players, as good as they are on the field, they are just as good of people off of it."
Off the field, the players were leaders for the team in the classroom. They have also spread the team's name and reputation in baseball, playing in select tournaments and on traveling teams throughout the midwest in the offseason.
During the high school season, they helped the Bobcats gain a lot of success during the last two seasons.
"Personally, from my standpoint it will be tough having to fill a lineup out without them," Svoboda said. "I would have to go back four years to find a lineup that doesn't have them in it."
Yes, an era has ended at Basehor-Linwood, and these two players are ready to take the next step.
Lawless signed to play at Hutchinson Community College.
Hutchinson made a deep run into the junior college postseason tournament this season. The team is a consistently strong program.
Lawless could either pitch or play the field next season. As a senior at Basehor-Linwood, he hit .400 with three doubles, three triples and a team-leading four home runs. On the mound he struck out 58 batters and walked just 10. He was selected to the All-Kaw Valley League first team as an infielder this season.
He is the son of Joe and Angie Lawless.
Henley signed to play at Cowley College. Cowley is a consistently strong program that has had players drafted out of it. Others have gone on to play at four-year colleges.
Henley had 18 RBIs, three doubles and two homers offensively, and struck out 44 and walked 15 on the mound during the 2010 campaign for BLHS despite only pitching part of the season due to a shoulder injury.
He was named to the All-Kaw Valley League second team as a pitcher this season, and he also played significant time in the outfield.
Henley is the son of Steve and Melanie Henley.