Codes court funding included in publshed 2011 Leavenworth County budget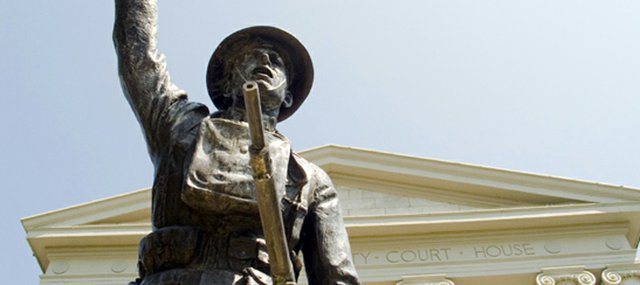 Despite its most vocal supporter's last-minute reconsideration, the Leavenworth County Commission has approved publication of a 2011 budget that would start a county codes court next year.
The new codes court is one of three spending enhancements in the budget from 2010 spending levels. The other two were $89,000 for two additional dispatchers for the Leavenworth County Sheriff's Office and $55,000 for the Leavenworth County Conservation District.
The approved budget will increase the county's property tax levy from 32.05 mills in 2010 to 33.23 mills in 2011. Of the increase, 0.77 mills will come from the decision to fund the county's solid waste program with mill levy support rather than an assessment on properties, a move commissions don't consider a tax increase because it produces the same amount of revenue.
A mill equals $1 of revenue for the county for each $1,000 of assessed valuation. At 33.23 mills, the county's share of taxes on a home with an assessed valuation of $150,000 would be $573.
The $150,000 for the codes court will pay for a vehicle, space and salaries of a codes enforcement officer and codes court judge.
County Administrator Heather Morgan said the officer would not be trained in animal control or expected to pick up stray dogs.
The decision on the codes court was the last of the commission's 2011 budget discussions. Commissioner J.C. Tellefson, who ranked the codes court as his No. 1 priority in May, wavered on initiating it next year as it became obvious commissioners would have to increase the mill levy if it was included.
However, Commissioner John Flower and Clyde Graeber said it was time the county put enforcement bite behind its regulations.
Funding was set aside to start a codes court two years ago, they said, but left unspent when Leavenworth County District Court judges said they could fulfill those functions. That didn't happen as the court got busier with more serious criminal cases, commissioners said.
Commissioners said they received few negative comments after it was reported last week a codes court would apparently be in the budget, but Flower said there were some expressing the Libertarian view that the court meant more government interference in the lives of county residents.
Flower countered that the county would do nothing initially but enforce zoning regulations it already had on the books. Any new regulations would be passed in open session with public comment welcomed, he said.
"There's nothing secretive or mysterious about what is going on here," he said.
The court would protect residents from irresponsible neighbors and give those wrongfully accused the opportunity to defend themselves, Graeber said.
In the end, Tellefson agreed to fund the program in 2011, saying the community had made a case for all three enhancements.
After initially writing the conservation district out of the 2011 budget and remaining unmoved when its board presented a second budget proposal, Commissioners Flower and Tellefson agreed in Graeber's absence Thursday to provide the district with $55,000 in county funding for 2011.
The district board won over commissioners with a budget that will limit its administrative costs to less than 20 percent and fewer than 1,000 hours, the number required for KPERS benefits.
Eighty percent of the district's budget will now be used to get a new staff member in the field.
"I think it is a good thing we do conservation, but do it in a meaningful way and not just hand somebody a brochure," Tellefson said.
With the commission's action, the budget will now be published in The Mirror. There will be a public hearing on the budget at 9:15 a.m. Aug. 16 before commissioners consider it for adoption.
Publication establishes the maximum level of 2011 spending levels. Commissioners can adjust spending downward but must republish the budget if spending levels increase.