Leavenworth County asking cities to support K-5 expressway, bypass for
KDOT

funding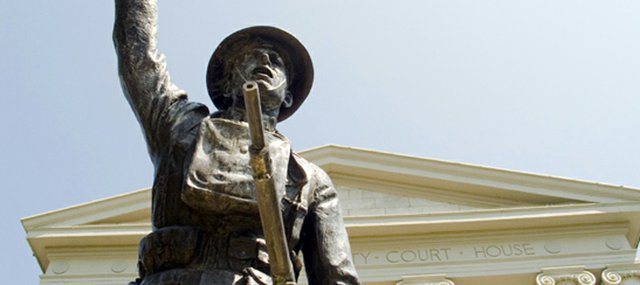 It is the view of Leavenworth County commissioners that seeking Missouri-side support for an upgrade of the Kansas Highway 92 bridge over the Missouri River is a mission to nowhere.
At the suggestion of Commissioner J.C. Tellefson, the commission agreed to have County Administrator Heather Morgan write a letter to four Leavenworth County mayors asking they join to support funding in the 10-year Kansas transportation plan, or T-Link, a Kansas Highway 5 project from northwest of Leavenworth to the Wyandotte County line
The letter explains that although the county and cities agreed to support the K-92 bridge and an upgrade to K-5 east of U.S. Highway 73 and Kansas Highway 7 in south Lansing, the county was now seeking unified support for a K-5 upgrade that would link Interstate 435 to U.S. 73/K-7 northwest of Leavenworth.
Tellefson said he would support funding for the bridge if there was any support for the project on the Missouri side. However, he said the Missouri Department of Transportation was cool to the bridge upgrade and is instead focused on improvements to Fairfax Bridge to the south, Tellefson said. And the improvements to the Missouri River bridge in Atchison made it more unlikely there will be Missouri support.
The county and the cities jointly support the eastern improvements to K-5, involving the realignment of the highway to I-425 in Wyandotte County to K-7/U.S. 75 at McIntyre Road in Lansing. The county is now asking they support extending the project with a bypass of Leavenworth on a route that would loop southwest of Leavenworth before traveling north along 117th Street.
The K-5 bypass could win support of Brown, Doniphan and Jefferson counties in Kansas, Tellefson said. There was also strong support in Wyandotte County to improve the K-5 route from I-435 to I-635, he said.
The project would not all have to be a four-lane limited access road from the start but could be done in stages, Tellefson said.
Tellefson noted the phases of the K-5 improvement were the top priorities in the county's comprehensive plan.
Commissioner John Flower agreed the K-5 project would have wider support in the county because those south of Fairmount Road had better options for crossing into Missouri than the K-92 bridge.
When Flower and Commissioner Clyde Graeber said the change would probably not be popular with city of Leavenworth officials, Tellefson said he would attempt to meet with the Leavenworth City Council.
The county is seeking unified support in time for Sept. 1 KDOT meeting.