Expert's advice to beat the heat: hydration, hydration, hydration
Hydration, hydration, hydration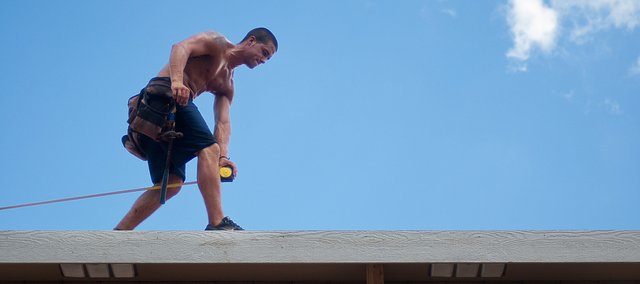 Summertime and the working ain't easy.
This is especially true for Josh Blevins, who spends most of his workday putting up houses for Mills Construction.
In his years as a framer, Blevins has developed a twist on an old adage.
For Blevins, it's not the heat or the humidity that makes working outside difficult. It's the wind or, really, the lack thereof.
"Last week, when it was really hot, we really needed the wind," he said. "When it would die, it was almost too much for us. You pretty much have to tough through it."
For Blevins and many others, work doesn't stop during the summer. The long days under the scorching sun are just part of the hazards of working outdoors. But these workers have their own ways of dealing with the heat.
Jamie Miller, Leavenworth County Emergency Medical Services and Health Department director, has three pieces of advice for beating the summer heat: hydration, hydration, hydration.
To stay hydrated, Miller said, people need to drink plenty of water throughout the day. They also need to avoid alcohol and caffeine, even when it's not in their favorite beverage.
"People don't think about candy and chocolate, but it has caffeine.," Miller said. "And you need to drink plenty of fluids — and not just power drinks. You shouldn't just be drinking 100 percent Gatorade. While it does have some electrolytes, it has a lot of sugar. People don't think about that."
Blevins couldn't agree more.
He said on really hot days, he and the other workers at the site drink an entire 5-gallon water cooler before punching out. On less hot days, they may only go through half of it.
While the amount of water needed for proper hydration depends on the person and the amount of physical activity, Miller said there were some telltale signs that dehydration is setting in.
"If you drink a gallon of water and you don't feel that you have to go the bathroom, you are probably dehydrated," Miller said.
Although firefighters are trained to handle hot situations, the summertime heat means making adjustments, even if it means calling in reinforcements.
To stay hydrated, firefighters in the county can call Fire District 1 in Lansing and get cool bottles of water and sports drinks delivered to them in the field. The delivery is part of a countywide service available to all departments.
But the real help comes from getting a hand from other departments.
Chris Angermuller, a lieutenant with the Fairmount Fire Department, said rotating firefighters is the most important way to keep them out of danger from overheating.
"It gets pretty intense," Chris said about fire calls in the summer. "It gets well over 100 degrees with all of the gear on. Then you are working a fire that can be anywhere from 400 to well over 1,000 degrees. When you come out, you need to get that gear off and cool off before all of the heat gets to you."

For that reason, he said, firefighters are only allowed to stay battling a blaze for about 10 minutes at a time before they have to come out and take a 15- to 20-minute break.
"We are always watching to see if the guys are acting confused or if they are not sweating as much," Chris said. "These are indicators of severe heat-related injuries. We watch for stuff like that and try to get them out and get them some treatment. County EMS is also on hand to take the firefighters' vitals when they come out of a rotation to make sure they are doing well."
The Basehor Public Works department doesn't have reinforcements to call upon during the workday, but employees there do manage to get through the summer months with a little bit of planning.
Before packing up and going home, City Superintendent Gene Myracle and the other public works employees get everything ready so they can leave for the field as soon as 7 a.m. rolls around.
"We work on big city projects from the time we start working to about 11:30 a.m., when we take a lunch break," Myracle said. " For the rest of the day, they work on other projects that don't necessarily require us to be out in the sun."
Some of the big city projects include clearing brush and burning brush after a storm.
By doing so, department employees are able to minimize the time they spend in the sun.
Myracle said Public Works employees also carry a gallon of ice water with them to stay hydrated.
But no matter how cautious one is while working outside during the summer, heat-related illnesses can happen.
Miller said someone may need medical attention if they are out in the sun and are feeling fatigue, nausea, dizziness, headaches or are vomiting.
He said to call 911 if the person has stopped sweating or has become unconscious.