Bobcats are best in Kansas
Basehor-Linwood softball squad wins first girls state title in school history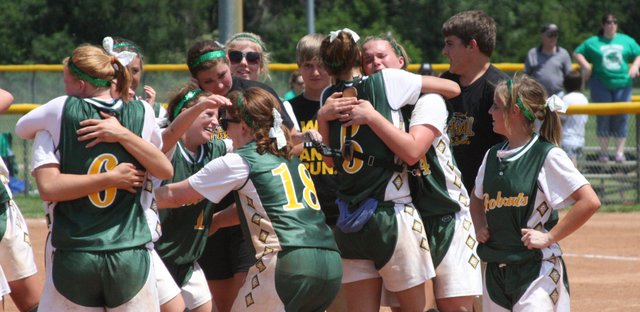 The Basehor-Linwood softball team made history on Saturday as it won the Class 4A softball state championship — the second athletic state title in school history and first in a girls sport.
The pictures taken in the moments after the championship game will be the lasting images of a historic season where the Bobcats posted a 24-2 record and capped it with a 5-2 victory against Mulvane in the championship game.
"It is a classic ending to an incredible season," coach Susan Mayberry said. "It's something the kids expected to go down and do. To see them accomplish what they wanted to do was a thrill for me."
With time, the photos will grow grainier as the memory fades and players on the team disperse. The seniors will leave the program with lasting imprints and the distinction of winning their final game.
The underclassmen will return next season, trying to replicate success.
In 30 years, they can show their grandchildren the pictures and smile again, recalling the state championship tale.
They will recall the team's blueprint for success: dominating starting pitching, consistent fielding and timely hits.
They will remember the chemistry that so many players said made this team special.
All of these factors were in play during the championship game, and Mayberry said she sensed her team became more determined after Mulvane scored a run in the first inning.
Players get a little angry when the opponent scores first, Mayberry said, and this game was no exception.
In the bottom of the first inning, Hannah Tush drove in a run to tie the game.
Then, Tara Chumley crushed a three-run double over the right fielder's head.
"I couldn't have picked a better time to have a hit," she said. "I didn't hit as well that weekend, but timely hitting is what is important. Our team had the right hits at the right time to make it work. We don't have anybody that hits home runs all the time; we hit base hits. It is the right time and right places. Everybody does their job. I knew my job to change the momentum. Everybody contributes and does their job. I guess it worked out well."
The Bobcats led, 4-1, and were in control of the game.
Pitcher Brooke Redmond held the lead for the next few innings, dominating opposing batters. When contact was made, she received plenty of support from the defense.
"She pitched great," Mayberry said. "She had tremendous composure. She pitched within herself. A couple innings she overthrew a bit, but she collected herself. Playing for a team that can attack you, we are kind of in your face all the time. That helps in the way that she pitches. That drives our defense and our offense. We know how to take care of business. She pitched really well."
The Bobcats added another run in the fourth inning and led, 5-1.
Mulvane scored a run in the top of the sixth. With two outs, and runners on second and third base, Olivia Cowan made a diving catch on a ball that was hit to left field.
"Oh yeah, I knew that I had to help pitcher out," Cowan said of the diving catch. "I knew that I had to get her out of that inning."
The catch ended Mulvane's last real scoring opportunity.
Basehor-Linwood did not score a run in the next inning. Mulvane went down in order in the final inning. Hannah Tush caught the final out to win the title.
"Once that ball was hit, I got under it," Tush said. "I was thinking 'wow, I can't believe I get to catch the last out.' We did it. It was awesome, probably best feeling ever catching the last out."
Players sprinted to the pitchers' mound, tears filling their eyes. Tush and Cowan tackled one another.
Euphoria set in.
"Yeah, the girls just went crazy," Mayberry said. "They were determined. Megan Rehm said it best. She said 'we have had three years of heartache and tears, we were not about to let it happen again.'
Mayberry said she didn't have much to say to her team after the victory. The accomplishment spoke for itself.
"I congratulated them. I just told them that I was proud of them for deciding what needed to do in Salina. We were not just happy to be there. There wasn't much to be said or that needed to be said. I just congratulated them, told them to enjoy it, soak in the congratulations, because it's something they will have forever."
Chumley said it was a phenomenal way to end her career.
"As seniors, we knew it was our last game, we wanted to go out with a bang and finish the season strong. We couldn't have asked for a better way to end the season," she said. "It was nice to end the season on tears of joy instead of tears of crying that the season was over on a loss."
Chumley said it was nice to be a part of history, and the whole thing was a little overwhelming.
"No, it still is just hard to grasp it. It is such a huge event," she said. "It's something we wanted for so long. To have it is an awesome feeling. To be up on the wall next to the boys' (basketball) team is really cool. We are the first girls' state champion in anything, and that is a big deal."
Courtney Leive played third base for the Bobcats. As a freshman, she has learned a tremendous amount from the seniors on this team, and said it is amazing to win state as a freshman.
"Yeah, it was an amazing feeling," she said. "Being a freshman and having an opportunity to go to state and win it."
BLHS TAKES DOWN PAOLA
Entering Saturday's semifinal game against Paola, Mayberry knew it would be a tough contest. Paola was a talented softball team and the No. 3 seed in the tournament. Basehor-Linwood was the No. 2 seed and the highest remaining seed.
"I told Erin Shore, our assistant, whoever wins will win the title," Mayberry said. "Paola is solid, they're well coached. They have a good pitching staff and incredible hitters."
Paola scored in top of the first inning and led 1-0.
Basehor-Linwood answered with two runs in the bottom of the inning. Megan Rehm reached base on an error. Caylee Smith bunted her to second. Hannah Tush ripped a double with two outs to score Rehm. Shelby Pierce singled to score Tush.
The Bobcats led 2-1.
In the fourth inning, Rachel Neal led off with a single. Chumley bunted for a hit to put runners at first and second. Redmond walked. Cowan hit a sacrifice fly to center and scored Neal. Rehm singled to score Chumley. Caylee Smith doubled to left-center field to score Rehm and Redmond. The Bobcats led 5-1.
Basehor-Linwood added another run to take a 6-1 lead.
Paola scored three runs in the last few innings of the game, but Basehor-Linwood held on to win and advance to the championship.