Holy-Field Ladies Night offers fun, helps cause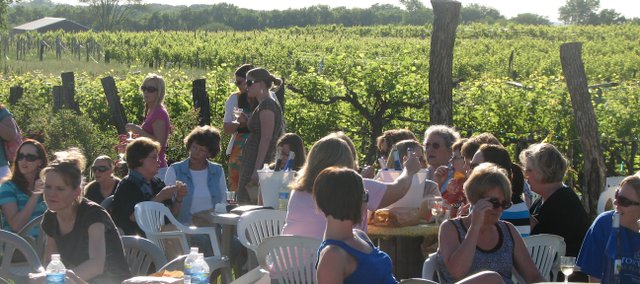 Though thunderclouds and rain pushed the event back a week, Ladies Night at Holy-Field Vineyard and Winery was booming Thursday as women gathered at the winery to contribute to a charitable cause.
Ladies Night has quickly become a tradition at Holy-Field featuring music, a silent auction, local and area vendors, snacks and, naturally, plenty of wine. Money raised at the event each year is contributed to the Safe Harbor Dogs program.
More than $4,000 went to the program last year with approximately 250 women and vendors attending. The cars overflowing the winery parking lot and surrounding streets Thursday signified the 2010 Ladies Night was just as successful.
"Overall the event was a huge success, and the only request I heard was that we should have Ladies Night once a month!" Holy-Field owner Michelle Meyer said. "This was our third annual Ladies Night to benefit Safe Harbor, and every year we try to improve and make it better. This year we added the trolley service to make it easier for the ladies to park. The library, KC Construction and First State Bank and Trust were all very gracious and allowed the ladies to park their cars and ride the trolley to the winery for Ladies Night. We have quite a bit of parking, but the additional space provided by these businesses made the area less congested."
Meyer said the event brought in about 325 women, not including vendors, and nearly $5,000 was raised for Safe Harbor. Holy-Field is committed to benefiting charities, Meyer said, but Ladies Night is also a wonderful way for the female population to spend a relaxing evening at the vineyard with good company and delicious wine.
"The best part of the event is of course raising money for such an important community partner, the Safe Harbor Prison Dog program, but I think the ladies all enjoy a night of their own, and the fact that it benefits Safe Harbor is a bonus," Meyer said. "Personally, I love having people enjoy the vineyard as much as I do. The women love the shopping, and I think the massages and foot rubs were extremely popular."
As for next year, Holy-Field will undoubtedly have Ladies Night, but an event is also in the works to be dedicated to the opposite sex, Meyer said.
"We have even had requests from the men and they want their own night, too," she said. "Something totally different just for the guys, and we are working on some ideas just for the men."
Wrapping up Ladies Night 2010, Meyer wanted to extend Holy-Field's gratitude to the companies and vendors that make each year's event special.
"Lots of thank you's to all the businesses, vendors that participated," she said. "We couldn't have the success without the support of the community and all the businesses that donate items for the silent auction."