Memorial Day service pays respect to veterans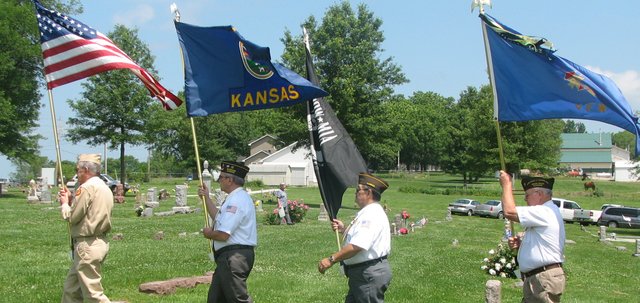 Photo Gallery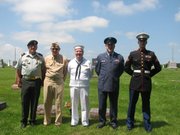 Basehor VFW Memorial Day ceremony
The spirit of Memorial Day swept over those at the Glenwood Cemetery in Basehor.
Members of the community gathered at the cemetery Monday afternoon to pay respects to and remember lost loved ones and veterans during the Basehor Veterans of Foreign Wars Post 11499 annual Memorial Day service.
The service began with the military veterans presenting the colors, the bright flags flapping as a gun salute pierced the quiet air settling around the decorated gravestones.
Several attendees wiped away tears from their cheeks as "Taps" rang out across the cemetery.
Basehor VFW Quartermaster Daniel Stueckemann marched to the front of the crowd and placed a wreath at the base of the American flag flying near the cemetery's entrance. He promptly saluted the wreath as the bugle's final notes faded.
VFW Commander Fred Box said the service was a success.
"Everything went just wonderful," Box said. "We had a lot of new people attend, and everything went just really nice."
To VFW Junior Vice Commander Phil Jenkins, the day conjured memories of fallen comrades in the Vietnam War. His thoughts were with them Memorial Day, he said, as he thanked all the soldiers who were there only in spirit.
"Paramount in my mind, on this day of remembrance are the ones that gave their lives so we could remain free," Jenkins said. "Each time I volunteer to work the Vietnam Veterans moving wall, which contains the names of the 58,000 plus that died in Vietnam, I am compelled to walk the entire wall, gaze at all the names, and it makes me cry. No matter how many times I walk it, it will always be that way. It is overwhelming to me that these soldiers and nurses made the supreme sacrifice for the rest of us. All vets are important, but today is the day for remembering the ones that have died."
Those interested in learning more about the Basehor VFW or attending future VFW events can contact the post at (913) 724-3481, or go to the post's website vfw11499.org.