911 system expenses complicate county's budget considerations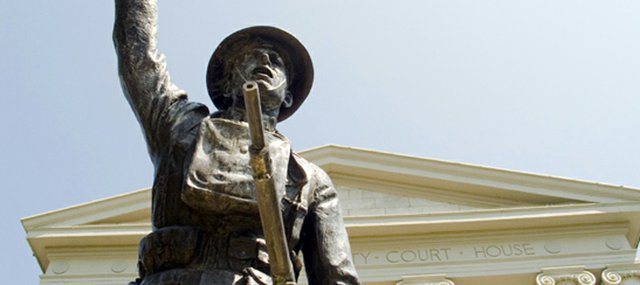 After day one the Leavenworth County Commission's 2011 budget hearings, Commissioner J.C. Tellefson figured he was about 1 mill in the red from his and the commission's commitment to produce a budget with no mill increase.
One mill of taxing authority earns the county $569,000.
Tellefson's running deficit tally included $200,000 in new expenses to start a codes court and hire a code enforcement officer, a goal his fellow commissioners might not share.
But even without that new program, commissioners learned Monday they had to find savings or unexpected revenue somewhere to make up for increased costs in the county's 911 and dispatch systems.
Contributing to the increase are service agreements for the county's new 911 system's generator, dispatch consoles and tower totalling $144,200. Those items are eligible for revenue from the 911 fund generated from a tax on phones, which has a current balance of $533,000.
Other 2011 expenses not eligible for 911 funding are the first of two payments for the $340,000 upgrade to the county's dispatch system and a $30,000 maintenance agreement for "subscriber units" or radios carried by responders, County Administrator Heather Morgan said.
She would address where funding for those expenses could be found as the budget process continues, Morgan said.
The 911 system provided evidence to commissioners that not all department heads — either appointed or elected — could produce 2011 budgets with 5 and 10 percent decreases as Morgan had asked. However, there were departments that realized that goal.
Larry Malbrough, director of information services, delivered good news on day one. He and Morgan identified $75,000 in 2011 cost reductions for the department, mostly through savings to the department's depreciation fund when it was found items could be purchased for less than what was budgeted.
County Clerk Janet Klasinski submitted budgets for the clerk and election office that cut $168,000 from the election office budget. Morgan recommended another $12,700 reduction to the election office and $13,000 in cuts for the clerk office budget.
"I can do that," Klasinski said. "I'm not going to take away for anything. We're going to do what we have to do and do it professionally."
Although there was no proposed change to the 2011 budget for the coroner's office, changes are coming. It was announced Monday County Coroner Dr. Stewart Grote would resign July 1. Commissioners discussed last month with Leavenworth County Sheriff David Zoellner and Atchison County Sheriff John Calhoon the need to hire professionals trained in forensic science for the position. It was agreed at that time, to advertise requests for qualifications from service providers.
One of the professionals mentioned in the discussion, Dr. Erik Mitchell of Topeka, will serve as interim coroner until a professional service contract is approved.
The big hitter on day two of the hearings was that of the Leavenworth County Sheriff's Office.
Sheriff Zoellner's requested 2011 budget is $4.3 million, which is a reduction of $160,000 from the current year. The sheriff complied with the directed 5 to 10 percent reduction request but also requested $85,000 to hire two new dispatchers.
Zoellner said the office was understaffed, especially with dispatchers, and handling significantly more calls from county cities.
"There's more radio traffic, and we're still at the same size we were 10 years ago," he said. "We're dispatching for 16 different entities, including five different law enforcement units. We're understaffed. We're operating with two (dispatchers) in evening and two during the day when there really should probably be three (on all shifts)."
The discussion of hiring new dispatchers brought Flower, Tellefson and Commissioner Clyde Graeber back to the idea of consolidating the county's dispatch with that of the City of Leavenworth.
For now, the sheriff's department will explore ways to find $85,000 from its own budget, possibly transferring money from an equipment depreciation fund.
– Kaitlyn Syring contributed to this story.