Five Questions: Election outlook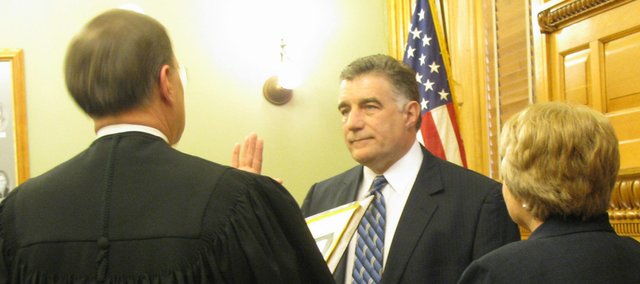 Q: What offices are up for election this year in Kansas?
A: In 2010, individuals will be elected or retained for the following offices: one U.S. senator; all four U.S. representatives; governor/lieutenant governor; secretary of state; attorney general; state treasurer; commissioner of insurance; all 125 state representatives; State Board of Education (Positions 1, 3, 5, 7, 9); district magistrate judges (16 retained, two elected); four Kansas Supreme Court justices (Positions 1, 2, 3, 5); eight Kansas Court of Appeals judges; district court judges (40 retained, 29 elected)
Q: When is the deadline for candidates to file?
A: Democrat or Republican candidates who wish to appear on the August 3rd primary ballot must file for office by noon on Thursday.
Q: If someone is interested in running, how do they file?
A: In order to file for office, individuals must complete the necessary paperwork and submit a fee or petition. Candidates for national or state office must file with the Secretary of State's Office while candidates for local office file with their county election office.
Q: What about the details, costs, necessary paperwork, etc., for filing? Is it online?
A: More information about filing is available at: kssos.org/elections/10elec/elections_filing_2010.pdf
Q: Is the Secretary of State's Office doing anything special to mark the filing deadline?
A: Kansas Secretary of State Chris Biggs will host an open house on Thursday, June 10, from 8 a.m. to 12 p.m. at Memorial Hall (120 SW Topeka Ave., Topeka) to conclude the candidate filing period. At the noon deadline, Secretary Biggs will strike the gavel and declare the filing period closed.