Edmonds hopes to build on state success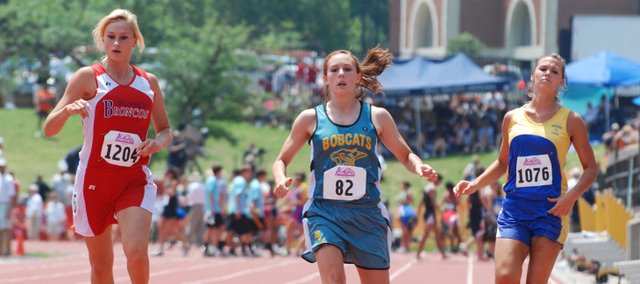 WICHITA — Dakkota Edmonds insisted the Kansas Track and Field State Championships were much tougher than the Class 4A regional meet.
BLHS coach Steve Hopkins had a different opinion, however, after Edmonds replicated her fourth-place finishes in the 100- and 200-meter dashes from regionals again at state.
"The big thing was that she was fourth because our doggone regional has the first through third-place girls in the finals. That's the thing I don't think people understand," Hopkins said. "Last year we felt she might have been the fifth-best girl in the state but she didn't get to go down to state and prove it. This year she was the fourth-fastest and she got to prove it."
Sure enough, the top four medalists at state in both sprints came from the same regional, proving just how challenging of a road Edmonds had just to make it to state.
Perhaps the regional seemed easier because Edmonds already was familiar with her competition. She'd raced top-tier runners like Piper senior Danyelle Cole all season so she knew what to expect. In contrast, the atmosphere surrounding state was completely new to Edmonds.
"It was definitely seeing a lot of really fast people running (that made me nervous)," Edmonds said. "I was really scared actually."
After watching other fast people run, Edmonds got her chance to prove she was one of the fast kids, too. Her time in the 100 was 12.55 seconds. Cole won in a state-record time of 12.12. Edmonds also placed fourth in the 200 in 26.16 while Cole won the state title in 25.31.
Edmonds also competed in the 400-meter relay with freshman Rachael Cook and juniors Shelby Equels and Courtney Inlow. The team placed 13th in 52.93.
For her part, Edmonds didn't express frustration from having to race fast sprinters like Cole so much. Instead, she embraced the opportunity.
"It pushes me a lot," Edmonds said of the tough competition. "I have improved my time by almost a full second. I ran a lot faster running with (the Piper girls)."
Hopkins noted that Edmonds' perspective showed a lot of maturity.
"That was not the case last year. I think last year she was intimidated, she was just a 14-year-old freshman, and this year she figured out 'if I want to get better, I've got to race the best people,'" Hopkins said. "Dakkota's not intimidated by that this year."
Hopkins expects Edmonds to be a confident sprinter for the remainder of her career, but Hopkins said Edmonds would need to get stronger to continue to whittle down her times.
"That's true of all kids, but it's especially true because of her body build," Hopkins said. "She's not very tall and is not going to lengthen her stride, so she has to get stronger in the weight room.
"Dakkota's got to really pick 'em up and put 'em down … doesn't have long strides … so for her to get faster she has got to get stronger. We feel have a big advantage because of that."
Edmonds plans to put in the work, and she said she had bigger goals for her final two years.
Does she think she can become a state champion?
"I do, I really do," she said.