Festival gets 'best crowd yet'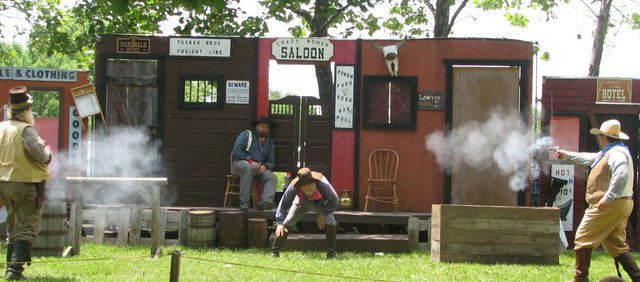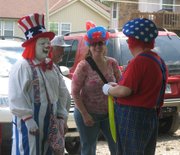 The 2010 Dairy Days was in full swing Saturday in the Basehor City Park, and hundreds of people turned out for a day filled with family fun.
This year's festival, which is the fifth in the life of Dairy Days, kicked off Friday night with a picnic and concert at the park featuring the band Bolt Upright and plenty of hot dogs, brats and root beer floats to go around.
Saturday's event began with a Chris Cakes pancake feed and a walk through the park sponsored by Snap Fitness of Basehor. Other attractions like food vendors, shopping, a petting zoo and music were highlights of the festival throughout the day.
"We were delighted with the response this year," Dairy Days event coordinator Lila White said. "We had the best crowd yet. The parking lot was constantly full. Every time we looked out there, tons of people were coming in."
The event's fifth anniversary included a few new elements like the Friday night concert, western performance group Gunsmoke and Petticoats, the band Four Fried Chickens and a Coke, barbershop chorus serenades and several children's games. White said the festival's committee strived each year to make the day more enjoyable than the previous year, and it was especially important to do so during the anniversary celebration.
"We heard from a lot of people that we really stepped it up this year," White said. "They all said the park was such a nice place to have it again, and it seemed like it got better and better every year. We were so pleased to hear that."
Eight-year-old Morgan Chandler was one of those who noticed a difference in Dairy Days this year. She attended the festival with her mom, Sybil, and said she enjoyed watching the western show and the rides near the Boy Scouts tent.
"And I liked all the free candy," Morgan said as she held her dog-shaped balloon animal. "Free candy tastes better than paid-for candy."
Attending Dairy Days meant something deeper to Sybil, who said she came out to the event to show her Basehor appreciation.
"My favorite part is really just supporting the community," she said. "I think this is a great way to do that."
Community ties are the structure of Dairy Days each year, White said, with numerous groups of people coming together for one cause.
"We're very proud of our little town on this day," White said. "We're definitely serving the Basehor community with all these different community facets helping us pull it all together."
And as the festival began to wind down Saturday, White and the seven other ladies on the Dairy Days committee started looking ahead.
"We're already planning next year's Dairy Days," White said. "We had a lot of first-time vendors and entertainment this year, and they want to come back for more. And we have even better rides planned for the kids. We're just tickled with how everything went this year. Couldn't be more pleased."
White said she wanted to give a special thanks to the Basehor Lions Club and all the day's volunteers, without whom she said Dairy Days would not be possible.
Those interested in becoming involved with the 2011 Basehor Dairy Days can contact Lila White at (913) 724-2963 or e-mail basehordairydays@yahoo.com.