Kaw Valley Relay for Life kicking off Saturday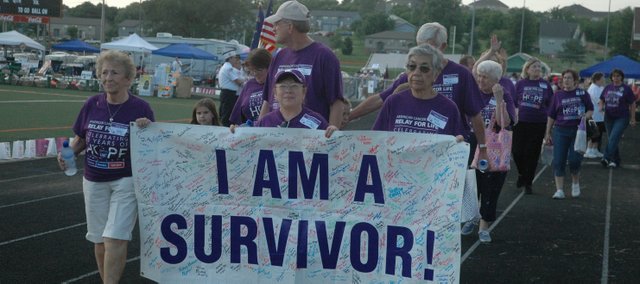 Cancer awareness supporters are preparing to descend on Bonner Springs this week at the annual Kaw Valley Relay for Life, going on from 7 p.m. Friday, June 11, to 7 a.m. Saturday, June 12, at the David Jaynes Stadium at Bonner Springs High School.
The event brings teams of people together to raise money for the American Cancer Society. While the event is only open to the public until shortly after the fireworks display, the relay teams stay up all night in support of cancer awareness.
Peggy Beatty, a committee member for the event, said while every year the event gets bigger and better, it's the traditional activities that always get the most reaction.
Beatty said the Luminaria ceremony, in which bags bearing names of people fighting cancer or those who've lost their battle, are illuminated around the entire track. The glowing sight, Beatty said, brings out a lot of emotion.
"It will just be a really nice quiet time in honor of the memory of loved ones," she said.
Following the Luminaria ceremony will be a fireworks display, which Beatty said was donated to the event by Dan Muder of Pro Fireworks Unlimited.
The entire schedule for the event is as follows:
• 5 p.m.: Registration opens
• 5:30 p.m.: Survivor Rally at Bonner Springs High School cafeteria
• 6 p.m.: Kidz Corner, Blue Dog bouncer and inflatable train opens
• 7 p.m.: Opening ceremony
• 7:30 p.m.: Various activities include: birthday cake decorating contest, team pictures in grandstands, performers, walking, silent auction and concessions
• 8:15 p.m.: All the Right Moves dancers perform
• 9 p.m.: Messages to Heaven Balloon Release on 50-yard line
• 10 p.m.: Luminaria ceremony
• 10:30 p.m.: Fireworks display by Dan Muder, Pro Fireworks Unlimited
• 6:45 a.m.: Closing ceremony and final lap