Students take strength to national level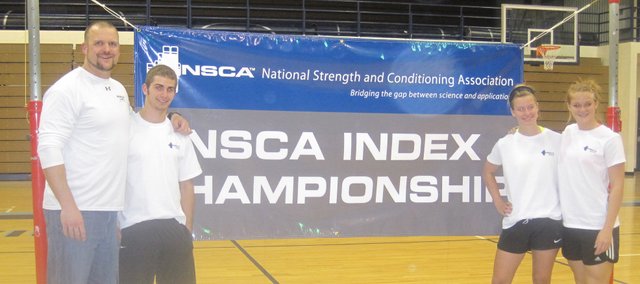 Strength and conditioning training has become a major point of emphasis for Basehor-Linwood High School students during the past few years.
Now, the Bobcats are taking it to the national level.
On Saturday, May 15, three BLHS students competed at the National Strength and Conditioning Association National Index Championship at Widefield High School in Colorado Springs, Colo.
The competition brought together the top 10 boys and girls qualifiers to try to determine the top male and female all-around athletes in America under age 20.
About 500 boys and 250 girls submitted marks in an attempt to qualify. The contest included athletes from Rhode Island, Michigan, Texas, Colorado, Montana, Missouri and California.
BLHS junior Melissa Seaman placed third and freshman Kara Stephens took ninth in the girls' competition, while junior Brady Blackwood placed sixth in the boys' competition. Senior Megan Rehm also qualified but was unable to attend because of a softball conflict.
BLHS strength and conditioning coach Ross Schwisow said the competition was an excellent opportunity for his student-athletes to find out how they measure up beyond their own school.
"It's designed to try to find the best athlete in the country, and when they say athlete they measure in four areas," Schwisow said. "It's an electronic 10-yard dash, an electronic pro agility test, a vertical test and then a five-rep hang clean lifting test."
The hang clean measures power, the vertical jump determines explosion, the 10-yard dash measures speed and the agility test calculates quickness. The results of each event are programmed into a mathematical equation that also includes the person's body weight.
Seaman entered the contest seeded second but slipped on her 10-yard dash and fell to third. Blackwell and Stephens were seeded sixth and ninth, respectively, and finished in those positions.
A benefit of the competition, Schwisow said, was that it showed the competitors areas where they excelled and need to improve.
"Melissa's such a great powerlifter, but that's only one event in this. She wants to be a college soccer player, and it showed her that she needs to get faster (to help accomplish that goal)," Schwisow said. "The nice thing that was for Brady the nine other competitors were football players while he was a cross country runner. He's a 132-pound kid, and he got to compete against a 215-pound junior college football player from Rhode Island."
Stephens called the competition a positive experience.
"It was a lot of fun," she said. "I hope I can go back next year and maybe a couple years after that. (It taught us) to work hard and have fun."
Schwisow said he was proud of the way Seaman, Stephens and Blackwood performed, and he thought it would inspire them for the future.
"It gives them a nice feeling of accomplishment," he said. "They had fun with it, but I think they'll come back home and work even harder."