Commissioners look for budget room for road projects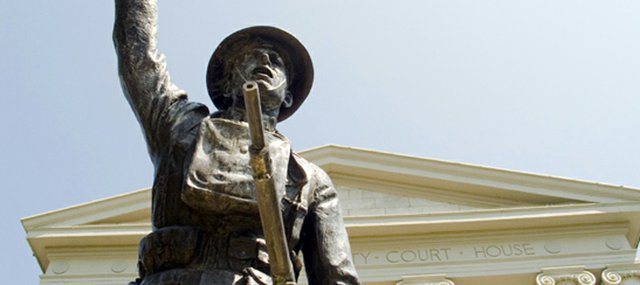 Even during a tight budget year, there are places Leavenworth County commissioners aren't willing to cut.
The commission concluded its first week of 2011 budget hearings Thursday with public works on the agenda.
Asked if there was enough money in the proposed budget for him to continue to maintain county roads, Leavenworth County Mike Spickelmier replied with measured words.
"Adequate? Yes. I think we'll have more challenges," he answered. "I'm buying less stuff — less rock, less asphalt, fewer culverts, less stripping."
The response had commissioners advising Spickelmier not to cut too deep.
"I get a lot more calls about road conditions than I do about taxes," Commissioner J.C. Tellefson said.
There are no capital improvement projects in the public works 2011 budget for either buildings and grounds or road and bridge. With a road-and-bridge reserve account built by year-end carryover funds at $2.3 million, commissioners suggested some capital projects with the one-time money were possible.
If he had the option, Spickelmier said, he would replace or repair one of the county's many older bridges.
Nor was road and bridges the only place commissioners were advocating improvement projects. Commissioner John Flower suggested the commission consider repaving the Justice Center's north parking lot for about $100,000.
With the talk of capital projects, Spickelmier suggested the county create a dedicated mill levy for capital improvements and develop a capital improvement list.
"Put everything from all departments in one pot where everyone can argue what capital improvements we think are important," he said.
Flower suggested another new approach during public hearings for CASA and Leavenworth County Alliance Against Family Violence. The two agencies, the first for outside social agencies receiving funding from the county, requested the same funding as 2010 but saw County Administrator Heather Morgan recommend 5 percent reductions, which were in line with county departments.
Commissioners said they weren't going to cut the vital safety-net programs on which the Leavenworth County District Court relies.


Flowers suggested social agencies submit grant applications to the county as they do for state and federal aid. It would allow them to build a case for additional money that commissioners could then justify to constituent.
CASA director Kelly Meyer said she would welcome any way outside agencies receiving money were made accountable.