Leavenworth County Commission takes action to comply with state's new smoking law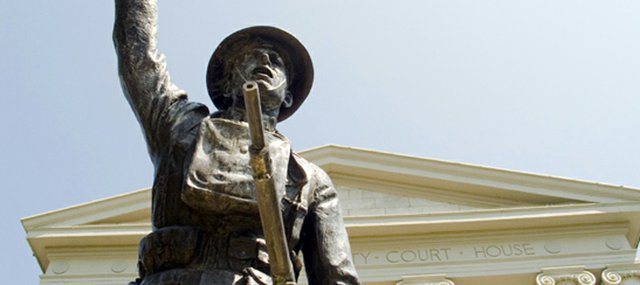 Leavenworth County commissioners responded Monday to the new state smoking law by banning smoking on all county property, including the Leavenworth County Fairgrounds in Tonganoxie.
With the measure, no smoking signs will be posted on all county buildings.
The commission's action only rubber stamped what was already in the new state law, which become effective July 1. It bans smoking in all public buildings and forbids smoking within a "reasonable distance" of a door, window or ventilation system or where smoke could be expected to enter a building through such openings.
The fine for smoking in such places is not less than $50 and not more than $300. The county faces a fine of $50 for each citation of non-compliance.
County public works director Mike Spickelmier said a plan to put no-smoking signs in all county buildings had been developed. What was missing, he said. was a policy allowing county employees and others to smoke on county property.
Commissioner J.C. Tellefson said he wasn't inclined to regulate smoking on county grounds outside of buildings but to let smokers police themselves. If they smoked in inappropriate places, complaints would soon shut them down, he said.
County Administrator Heather Morgan predicted complaints would soon follow any smoking on county grounds. Additionally, County Counselor David Van Parys pointed out the new law prohibits smoking everywhere put in a designated smoking area, which had to comply with the non-exposure rules.
Until the county did define designated smoking areas on county property, everything was non-smoking, Commissioner John Flower pointed out.
That is where the commission left it Monday, although Spickelmier is to return with committee recommendations about the placement of designated smoking areas.
"I would like to designate smoking areas," Tellefson said. "But I don't see we would spend any money making it a nice smoking area."