Bobcats' Courtney thrived as 4-sport standout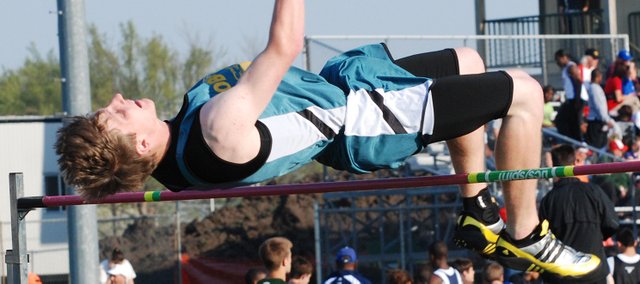 Basehor-Linwood senior Bobby Courtney could probably play any sport and do pretty well.
Just look at his resume.
In high school, he was a two-year captain in football. He was a state champion in the hang clean event in powerlifting, was the boys track team's top point-scorer and also qualified for state as a sophomore in golf.
In the process, he earned 14 letters during his career, and BLHS selected him as its 2010 boys senior athlete of the year.
"That was a neat thing," football and track coach Steve Hopkins said of the award. "I was proud of him. I think his multifaceted approach is what did it."
Courtney had an effect during football season.
He played free safety for the Bobcats and was the captain of the defense.
"He was our traffic director back there," Hopkins said. "We relied on him to get us lined up, that was a kid that had a great feel for where (the action was) going to be."
One of Courtney's biggest plays occurred against Turner in a game that decided the Kaw Valley League championship. Courtney picked off a pass and raced the other way for a touchdown. It was a play that the team had scouted throughout the season, and occurred because of Courtney being prepared, Hopkins said.
"Courtney recognized the swing route," Hopkins said. "When he picked it off and raced for the score, that was a highlight for him. Our free safety has to make so many calls. He has done a tremendous job the last two years."
He was an honorable mention selection last season to the All-Kaw Valley League team.
The senior enjoyed the continuity he gained from playing football.
"Football is more of a team sport; you are all one," Courtney said. "The team this year was great. We did a great job. Being a part of the team and winning as a team is a great feeling."
In the winter, Courtney led the Bobcats to a powerlifting team championship by winning the clean event and placing third overall.
His schedule was even busier in the spring as he played golf and competed as a sprinter and jumper for the track team. He practiced track and field before school and golfed after school.
Courtney's final season competing as an athlete at BLHS was hindered by a stress fracture in his foot. He jumped early in the season, but found out the week of the league meet that he had the stress fracture.
The injury plagued him throughout the rest of the season. Doctors told him that he could only jump at about 80 percent at that point in the season and still narrowly missed qualifying for state in the high jump. He lost on a tiebreaker despite clearing 6-2.
In spite of the injury, he was the boys team's top point-scorer in track throughout the season, and he earned a scholarship to jump at Northwest Missouri State University next year.
In golf, he was a consistent low scorer, and he said it was a neat experience playing for his father, Bruce Courtney. Bobby said he learned a lot from his father. The pair have had a special relationship, and it was nice seeing him every day at those practices.
Bruce also helped educate Bobby at a young age on BLHS athletics. He has been attending BLHS events since elementary school and said it is humbling to be mentioned with such great athletes who have received the award in the past.
"I have looked at the plaque for the last 10 years," he said. "I have known every name on there. It is cool to be in the same boat as those guys."
Overall, he relishes the chance he had to play so many different sports.
"Yeah, each one is unique and has its own feel to it," he said.
Courtney said he plans to study medicine in college and is considering studying orthopedic surgery.