Family follows father's lead in preserving freedom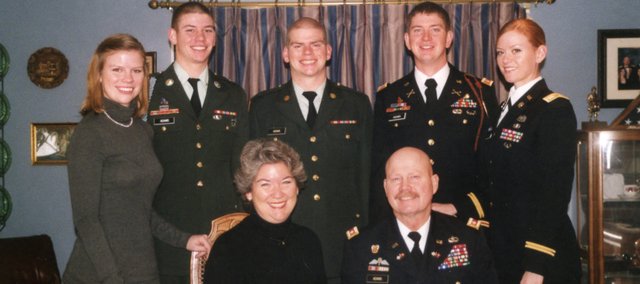 To the Adams of Basehor, serving your country is a family commonplace.
Bruce Adams, retired Army lieutenant colonel and Basehor Veterans of Foreign Wars senior vice commander, joined the military in 1983, and four of his five children have followed in his footsteps.
When Bruce decided to join the Army as an infantryman, he was already married with two children, and he thought it would be a good way to pay his college tuition.
"I thought I would be in for a few years, pay for school, get some training and move on," Bruce said. "But I stayed 25 years."
While stationed in Germany in the 1990s, Bruce and his wife, Mary Ann, had three more children, and the young family quickly learned about military life and the sacrifices soldiers make for their country. Bruce served as a signal officer during operations Desert Shield and Desert Storm, and his family was awarded Darmstadt Military Family of the Year for volunteer work in the military community.
Though their life was unconventional, Bruce and Mary Ann strived to give their children a sense of normalcy in the midst of many moves to different countries and U.S. states.
"My goal was for each kid to have at least two consecutive years at a high school," Bruce said. "I wanted each of them to have their own lives and make friends and be able to feel part of one school."
Each of his children graduated from high school and went on to college. Bruce Jr. is now an captain at Fort Bragg in North Carolina, Elizabeth is a captain currently serving in Afghanistan, Robert is a specialist at Fort Richardson in Arkansas, Benjamin is a private first class serving in Afghanistan, and Jessica will be a Basehor Elementary School kindergarten teacher in August.
His entire family is a source of pride for Bruce. He says it's nice to see four of his children find careers in the military, as well, but he is just as amazed by the work Jessica and his wife do each day.
"I think Jessica has the hardest job out of everyone," Bruce said with a laugh. "I never pushed my kids to go into the military. They all had their own reasons. My family feels a sense of duty, a willingness to contribute, whether they're defending freedom or teaching freedom. Jessica is providing just as important a service to the community and the country."
As a father, Bruce taught all his children the same lessons of loyalty, inquisitiveness and strength.
"I've always told them to do the right thing," he said. "Common sense will win the day. Have fun, but know your objectives. Work hard to obtain your goals, and you can always come home. Watch out for each other, and don't be afraid to ask questions."
As a husband, Bruce is grateful for the support of his wife. She has embodied the family's resilience, he said, and has remained a constant source of light.
"In all my time in the Army and now my kids' time, Mary Ann has been 100 percent supportive," he said. "I would not be who I am, my kids would not be who they are without her."