Leavenworth County Attorney requests raise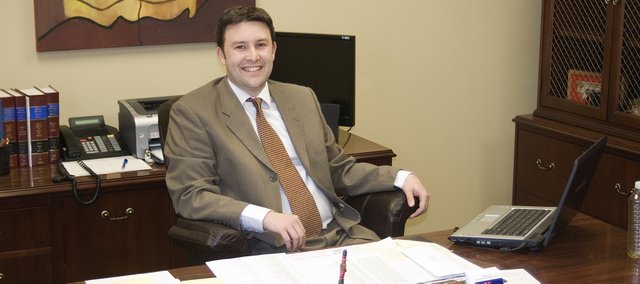 Less than 17 months after taking office, Leavenworth County Attorney Todd Thompson would like a raise.
When he took his turn at the table Thursday with Leavenworth County commissioners at their 2011 budget hearings, Thompson presented a budget request with $48,000 in spending enhancements for his office. The enhancement package includes a $4,000 raise to Thompson's $85,000 salary, salary increases for two key prosecutors and the hiring of an investigator.
The office has a 2010 budget of $974,463, which is the level of funding County Administrator Heather Morgan recommended for 2011.
In making his pitch to the commission, Thompson cited the courtroom success of his office since he became county attorney in January 2009. He and his staff have reduced a backlog of cases awaiting prosecution, gained convictions on five open murder cases and greatly stepped up prosecution of child sexual offenders, he said.
Victims of child physical and sexual abuse appear to be responding to press involving prosecution of offenders, Thompson said. Last year, 67 cases of physical and sexual abuse were reported to the child advocacy centers compared to 57 so far in 2001, he said.
Thompson gave credit for the success to his staff, especially two key prosecutors he praised for their initiative and aggressiveness. Although neither were looking for different jobs now, that could change as the gap grew between their current salaries and what was available elsewhere, he said.
His salary was less than those of county attorneys in similarly sized Kansas counties, including Finney ($107,000), Reno ($120,000) and Riley ($113,000), Thompson said.
Attorneys didn't become prosecutors for money and those on his staff could probably double or triple their salaries in private practice, Thompson said. But the salary increases would demonstrate Leavenworth County appreciates the work of the county attorney's office, he said.
His office was awarded a $30,000 grant to help pay an investigator's salary that could be applied to the next three years, Thompson said. That would be used with the new county money he was requesting to hire an investigator, he said.
The county is not offering raises in 2011, but county commissioners have conceded during the budget discussion that some with marketable skill may not be retained if not paid more.
However, the commission also has agreed to attempt to retain spending to a level that won't raise the mill levy in 2011, and Thompson's enhanced request would require additional mill levy support for his office. It was added to a list of $2.34 million in other budget enhancements requested in the commission's two weeks of budget hearings or suggested by commissioners.
The two weeks of hearings concluded with consideration of the 2011 solid waste budget. Mark Wilson, Leavenworth County solid waste director, told commissioners he was not requesting an increase in the $13.52 allocation on county lots. Rather, he would apply carry-over funds that had been accumulating in his department — expected to total $365,000 by the end of the year — to make some of the needed improvements at the transfer station.
That suggestion was counter to a Leavenworth County Solid Waste Committee's recommendation that the allocation be increased to $20 per county lot.
When Commissioner Clyde Graeber asked why he wasn't supporting the committee's recommendation, Wilson said he had looked in the carry-over fund option since the committee met.
But either option ends, at least for 2011, a proposal Wilson brought to commissioners in April that would have increased the allocation fee to $85 per lot and eliminated dumping fees for all in-county waste.
Commissioners must now digest all they've heard the past two weeks, and see if they can make room for any of the enhancements requested or those they identified.