Fresh foods to be found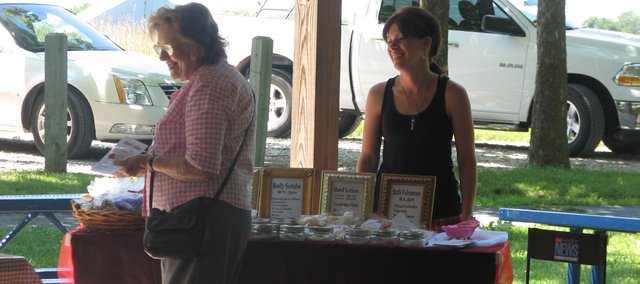 The Basehor community has a new place to acquire fresh produce and seasonal cooking ingredients.
Throughout the summer and extending into October, the Basehor Historical Society is playing host to a farmer's market in the Basehor City Park. Each market features fruit, vegetables, flowers, jams and jellies, along with household products like body scrubs and lotions.
Sunday was the first of these markets, and Basehor Historical Museum Director Carla Crawford said it was a success.
"The first market day went very well," Crawford said. "There was a fabulous turnout from the community, and the vendors that were there either sold out of items or had little left to sell."
The selection of produce will increase as harvest continues during July, August and September, Crawford said.
As summer fades, Crawford says the market will begin including items to reflect the changing seasons, and visitors will have the opportunity to do more than shop for groceries.
"We are extending the market into October, so we can offer to the public many fall items such as pumpkins, gourds, mums, apple and pumpkin butters, corn stalks," she said. "(We will also have) hayrides and carriage rides."
The summer schedule for the farmer's markets is as follows:
• 8 a.m. to noon July 10
• 8 a.m. to noon July 24
• 8 a.m. to noon Aug. 7
• 8 a.m. to noon Aug. 21
• 8 a.m. to noon Sept. 11
• 8 a.m. to noon Sept. 25
All markets will take place in the city park on Leavenworth Road.
Vendor's contracts may be picked up at the Basehor Historical Museum, Citizens Savings and Loan, Community National Bank, First State Bank and Trust, and Reece and Nichols.
For more details, contact the Basehor Historical Museum at (913) 724-4022.