Hollis plans wine tasting to raise funds for adding resources to center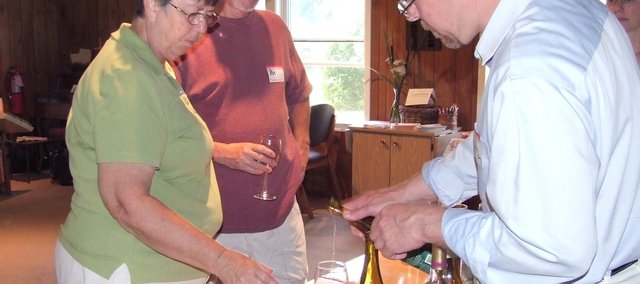 The Hollis Renewal Center will be playing host to its fourth annual wine tasting event this weekend in an effort to add resources to the facility to enhance its visitors' experiences.
The wine tasting will be from 4 p.m. to 6 p.m. Sunday, June 27, at the Hollis Renewal Center at 110th Street and Kansas Avenue in Bonner Springs.
For the past three years, the event had been tied to the center's capital campaign to raise money for a new Meadow Cottage and campus restrooms. While donations are still needed for those projects, Hollis Director Dave Mareske said the fourth annual event would be geared toward funds for a new resource center for Hollis visitors.
The plan is to turn part of the Welcome Center into a resource center in which materials such as CDs and books will be available for checkout to enhance visitors' stays. While the Hollis Renewal Center doesn't offer programs to visitors itself, Mareske said instead the center offers its facilities for various groups and individuals to use.
Part of the project includes replacing the building's carpet and the purchase of various educational and inspirational materials Mareske said would enhance the Hollis experience and fill in the gaps of various programs being presented by organizations using the Hollis facilities.
"We'd like to have a set amount of resources available to enhance people's spiritual renewals," Mareske said of the idea to stock books offering spiritual guidance.
The center has on average two groups visiting during the weekend and another two visiting during the week. Mareske said the center would host about 5,000 to 6,000 people each year on the property.
"A lot of people use our facility. We want to augment their stays and try to provide different experiences for them," Mareske said of the desire for more resource materials in a central location.
The center is owned by 28 congregations — mostly of Lutheran denomination — throughout the Kansas City area, which provide about 15 percent of the center's budget. Another 20 percent comes from the fees associated with use of the facility, which leaves 65 percent of the budget needing to come from individual donations.
The wine tasting event is just one of several ways Mareske says the center tries to thank those who donate to the Hollis mission.
On hand at the wine event will be wine expert Greg Wegst, who will select about six different wines for people to sample. Wegst will be available to talk with participants about each wine, as well as food pairings.
With a hammered dulcimer softly playing in the background, Mareske said the event has a soothing, open house feel where the public can mingle and enjoy the wine. Platters of cheese, crackers and fruit will also be offered.