Pep assembly honors
BLHS

state championship squad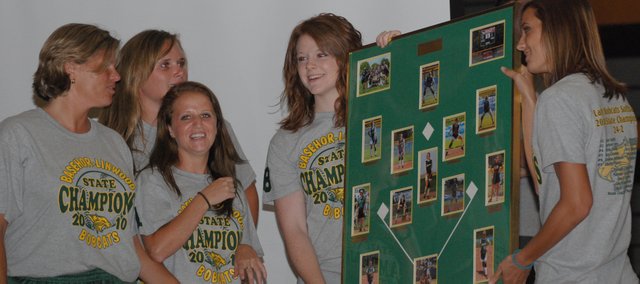 School has been over for a month, but the parking lot at Basehor-Linwood High School filled once more Monday evening as community members and classmates turned out for a pep assembly honoring the BLHS softball team.
The Bobcats won the Class 4A state championship on May 29, becoming just the second athletic team to win a Kansas State High School Activities Association-sponsored state title and the first for a girls program.
The BLHS boys basketball team won the school's other state title in athletics in 2009.
About 300 people turned out for the rally, which lasted 40 minutes and was followed by an autograph session with players. T-shirts and extra state tournament programs were on sale and available to be signed.
Basehor Mayor Terry Hill addressed the team prior to the assembly, and he later addressed the crowd, telling them: "These girls have really accomplished something special, and we should have the utmost respect and admiration for them."
Joe Keeler, BLHS athletics director, also praised the team for its accomplishments, which ranged from a 24-2 record to a state championship to a 3.70 combined grade-point average.
Players emerged through a cloud of smoke and a spotlight as they were introduced. Coach Susan Mayberry addressed the crowd for a few minutes. Then a 10-minute video was played that included highlights from the season.