Wastewater building gets upgrade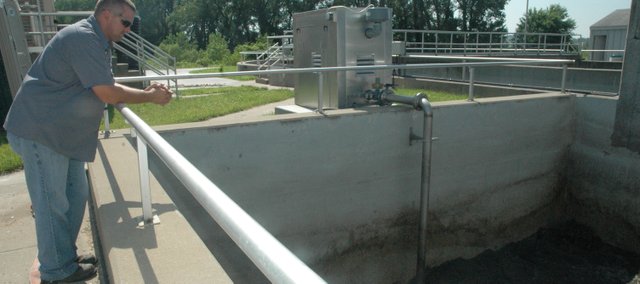 A shiny, new belt filter press, complete with a new building to house it in, is now in operation at the Bonner Springs Wastewater Treatment Plant.
Construction started on the building last October, utilities director Rick Sailler said, and the belt press was put to work for the first time on June 8. A belt filter press takes out the excess water from wastewater in its most liquid form — known as "sludge" — and turns it into the dryer bio solids. Sailler said the Bonner wastewater plant hauls about 28 tons of bio solids a week to the landfill in Johnson County.
"The reason of the belt press is … we can't dispose of liquid sludge at the landfill. They don't take liquid," Sailler said. "What we haul to them is a substance like mud, that's the consistency of it. It's still about 85 percent water."
Sailler said the new belt press was needed to replace a 30-year-old belt press. The new building, built using an insulated concrete to reduce energy costs, was needed to make room for development of the operations at the plant.
"The (old) belt filter press was in the main operations building, and we needed that room for expansion of operations," Sailler said. "So we put the belt filter press in a separate location."
The new building is large enough, Sailler said, to house two belt filter presses. In the next 10 years or more, as the city grows, he said, another belt press may be needed. The current one, however, is efficient enough to accommodate the wastewater usage in the city, with the ability to run at least 90 gallons of wastewater through itself per minute. The old belt press, he said, could only handle about 30 gallons per minute.
Included in the project was a sludge-conditioning operation, in which the sludge is aerated with blowers prior to being pumped through the belt press to prevent it from becoming septic. Before the blowers were installed, Sailler said, hydrogen sulfides that resulted from the lack of oxygen being pumped into the wastewater caused a significant and unmistakable olfactory offense.
"That's why that plant really stunk," Sailler said. "It's not nearly as bad as it used to be … So we've improved the environment down there at the wastewater treatment plant … not only for the belt press, but for the workers."
At a price tag of close to a $1 million, which was paid for through general obligation bonds and will be paid off during a 20-year period, Sailler said the money was well worth the efficiency the belt press will bring to the city.
"We're happy with the project," he said.