Wellness Center addresses overall health needs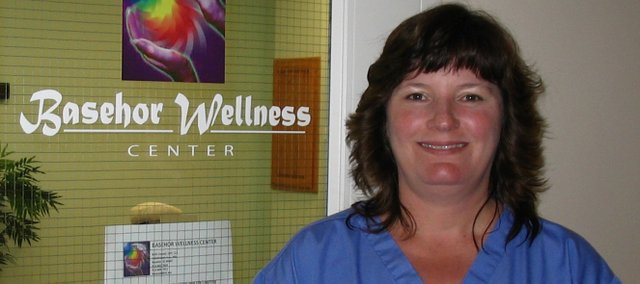 The word "wellness" may bring to mind a person working out at a gym or going to the doctor for a yearly checkup, but to Beth Conrad, wellness means much more.
As owner of the new Basehor Wellness Center, 15510 State Ave., Conrad emphasizes muscle and mental relaxation as a means for leading a healthy life.
"To me, wellness is a state of mind and a state of being," Conrad said. "It's not going to the hospital and being screened."
The center offers massages, energy sessions and life coaching, all of which Conrad is certified to perform. Its early June opening signified Conrad's lifelong ambition coming to life.
"I've always been interested in massage," Conrad said. "I worked in an office for a long time, and sitting at a desk all day just wasn't for me. Going to massage school and opening my own place has always been a dream of mine."
Clients can come in for 30-, 60- and 90-minute sessions, in addition to 10-minute chair massages. The sessions are formatted according to each client's desires with the options of Swedish, deep tissue, relaxation or energizing massages, or more personal massages catered to a client's particular body pains or stresses.
Life coaching appointments can also be scheduled, which Conrad says is an excellent way to get someone's life on track.
"It's not like going to a therapist and talking about your problems of the past," Conrad said about life coaching. "Life coaching deals with the here and now. It's about helping people set goals and realize those goals. It's helping people become successful."
In addition, Conrad has created a few workshops she plans to offer at the center, the first of which will be a women's empowerment workshop in July or August.
"The workshops are something I'm really excited about," she said. "I hope to have meditation workshops, too, to offer guided meditation and teach people about the benefits of meditation."
The Basehor Wellness Center is a dream Conrad hopes to run with, expanding the size of her facility, introducing Reike and Tai Chi, and conducting frequent group sessions. She said the reaction to her center had thus far has been positive, and she was eager to reach more people as time goes on.
"I've had a really good response," Conrad said. "It seems like people are happy to have something like this in the community. I'm still brand new, though, and trying to get the word out."
As part of the June opening, the center has a special on one-hour massages for $30 until July 15, and those who buy six massages receive one free session.
To schedule an appointment, call (913) 662-7024, or e-mail b-well@sunflower.com. For more information, go to b-well.massagetherapy.com.