Leavenworth County commissioner shares reform memos for discussion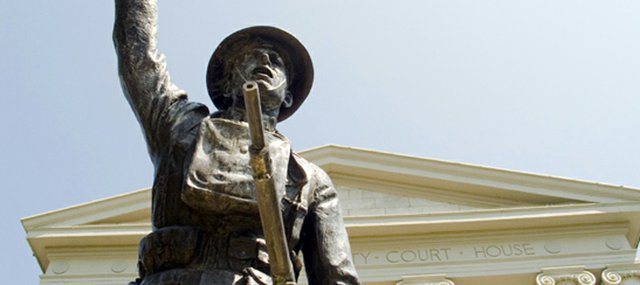 A "discussion item" to fundamentally reform Leavenworth County government will apparently go no further than an initial discussion.
Commission J.C. Tellefson, who earlier this month announced he was not running for re-election, started the discussion Thursday by sharing two memos with his fellow commissioners and four other county elected officials.
One memo concerned increasing the number of commissioners from three to five members, and the second memo concerned making the county clerk, register of deeds and treasurer appointed, rather than elected, offices.
Both measures would require approval of county voters.
Tellefson said the timing was right to at least talk about the changes.

He wasn't seeking re-election, Treasurer Janice Young said during recent budget meetings she would retire when her current term expires in January 2013, and two other elected officials have confided to him they plan to leave office when their current terms expired, Tellefson said.
Moreover, referenda on the issues could be scheduled for November, he said. Should the county commission expansion pass, Gov. Mark Parkinson would appoint the two new commissioners to a two-year term and the seats would be on the ballot in 2012 with the existing three commission seats.
Johnson and Sedgwick have added commissioners.
Johnson County, for example, has expanded its commission twice and now has six members and an elected county chair. Voters in 2000 also approved making the clerk, register of deeds and treasurer appointed positions in that county.
Tellefson said he wasn't advocating the changes, merely bringing them up for discussion. One advantage of making the clerk, treasurer and register of deeds elected was that it would remove politics from the offices, he said.
Those elected to the offices, Young, Clerk Janet Klasinski and Register of Deeds Stacy Driscoll agreed with Commissioner Clyde Graeber's concern that the changes could make them "beholden" to county commissioners rather than take politics out of their jobs.
All three said they learned on the job in the Courthouse before assuming their positions.
"I really think it needs to stay elected," Young said. "It was good I had eleven-and-a-half years before I stepped into the job. It's more than being a financial director. I do whatever I need to do."
Commissioner John Flower said he didn't favor the changes, although he said the quality of people seeking elected office sometimes "gives me cause to pause."
More commissioners would make them more accessible to constituents, Flower said. And it would allow some discussion between commissioners without violating the state's open meetings law, which isn't possible with just three commissioners, he said.
That prohibition meant commissioners discuss issues for the first time in open session before the news media, Flower said. Those unfiltered discussions can sometimes alarm citizens and county employees, but he said he was comfortable with the current number.
Although there didn't appear to be any support to study the changes further, Flower agreed with Tellefson that it was appropriate to periodically consider such changes.