Tonganoxie private club owner gets temporary injunction against smoking ban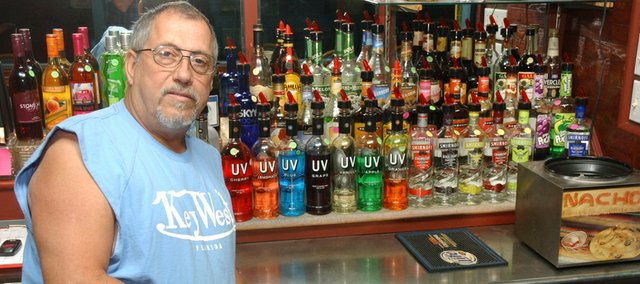 There was a celebratory mood Wednesday evening in Tonganoxie's Downtown Bar and Grill with the news a temporary injunction was issued that would at least delay enforcement of the state's new smoking law in the private club.
Kevin Haislip, owner of the Downtown Bar and Grill in Tonganoxie, filed the lawsuit challenging a portion of the Kansas Clean Indoor Air Act, which takes effect Thursday. That suit was subsequently joined by other club owners.
"This is just a start," Haislip said Wednesday. "I hope they turn it around for all the clubs and bars."
The temporary injunction Shawnee County District Judge Franklin Theis issued Wednesday applies to 28 private clubs made subject to the legislation's indoor smoking because they were licensed after Jan. 1, 2009.
"They're saying I became a club to get around this law," Haislip said. "I'm saying we have the same rights as other private clubs."
Haislip's attorney, Michael Merriam of Topeka, said he received a call from Theis after 5 p.m. Wednesday saying he had granted the temporary injunction for Haislip. He has not read the order and doesn't know if it has broader implications, Merriam said.
The temporary injunction will stay in place until the case is tried. Merriam said Theis told him his assistant was out and that no date had been said for a trial, he said.
Merriam said expected the case to come to trial in the next two to four weeks.
At the least, the delay will give him time to complete the patio he his building behind the club so that his customers can smoke outside, Haislip said.
"If we win, we might open the whole thing up for dancing," he said. "We'll sure be dancing tonight."