Downtown gears up for St. Patrick's Day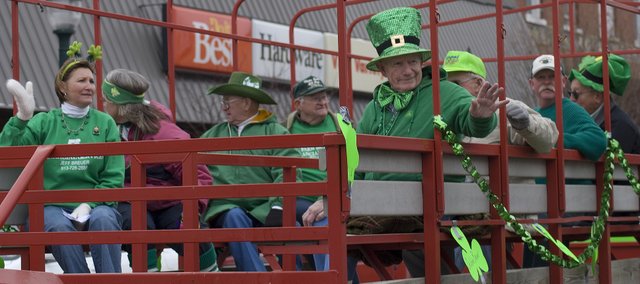 Irish eyes likely will be grinning a bit longer this year for the annual St. Patrick's Day Parade in downtown Tonganoxie.
In addition to the parade and other traditional events, the Leprechaun Games have been added to this year's festivities. Various businesses along Fourth Street will be offering games.
Festivities begin at 8 a.m. Saturday, March 13 and Cheryl Hanback, Tonganoxie Chamber of Commerce director, said excitement is building for this year's event.
"People are starting to get excited about it," Hanback said. "About the events going on downtown and the games and some fun things to do downtown."
Festivities will start with the Girl Scouts' biscuits and gravy breakfast from 8-10 a.m. in the Old Ratliff Drug Store. Donations will be accepted.
The annual parade, which was established in the late 1980s, will start at 10 a.m. with check-in for the parade beginning at 9:30 a.m. at Wire Nuts at the corner of Fourth and Main streets.
Prizes will be given for the top three entries in each of these categories: float, open (non-float) and best-dressed pet. A best band award also will be given.
Grand leprechaun for this year's parade will be Ken Mark, while John Evans II will be the moderator for the parade.
Following the parade, the annual corn beef and cabbage dinner will start at 10:30 a.m. and end at 1 p.m. at the First Congregational Church, 303 East First St. Cost is $7 for adults and $3 for children. PEO Chapter AT is sponsoring the event.
The Leprechaun Games also will get under way at 10:30 a.m. Coins can be collected at the games and can then be placed in the "pot of gold" for entry in a grand prize drawing.
Entertainment during and after the parade will be provided as well.
New this year will be Wild Women of the Frontier, an equestrian group from the Topeka area that portrays famous and infamous women from the western frontier during the 1800s and 1900s.
Tullintrain West Pipe Band, a group of professional pipers and drummers serving the greater Kansas City area, will be performing downtown.
A beer garden was considered for the event, but instead restaurant specials will be promoted.
Hanback said she would love to see the winter weather exit for the parade.
"We're just hoping for beautiful weather," she said.