BLHS

girls shut down Burns, Ward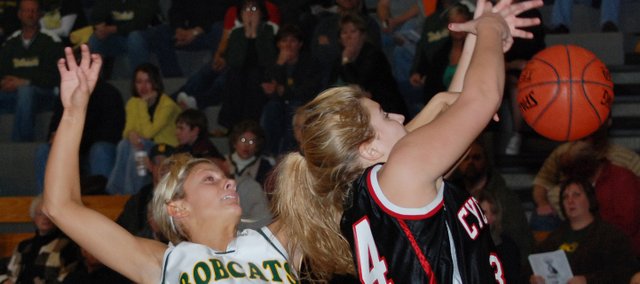 Coaches often say the toughest game of the substate basketball tournament is the first one. You must win it to reach the last two.
The Basehor-Linwood girls needed every ounce of toughness they could muster to defeat Bishop Ward in the Class 4A substate opener Tuesday night at BLHS.
The Bobcats earned a 38-33 victory thanks to a ferocious — and at times creative — defensive effort despite being dominated on the glass.
That defense helped them build a big lead early and hang on late.
"It's survive and advance, and that's it," BLHS coach Noah Simpson said. "It doesn't matter if it's pretty, ugly, anything. If you win by one point, you move on."
BLHS set the tone with its defense early. Shelby Equels had a pair of steals on Ward's first two possessions of the game. She took the first for a layup. Later, Megan Bergstrom knocked down a jumper for a 4-0 lead. Kylie Burns answered with a three-point play, but BLHS scored the next eight points and built an 11-3 lead with two minutes left in the quarter. A 3-pointer by Burns trimmed the lead to five entering the second quarter.
Burns had a hot hand early, and the Bobcats did everything they could to slow her down.
"We executed a game plan tonight that we knew it was going to take to win," Simpson said. "The first half we threw every defense we had out there … box and one, we had our match-up zone, we went man for a couple possessions, went 2-3 (zone), anything to just try to disrupt what they were doing."
A pair of free throws by Cassy Bever and a 3-pointer by Taylor Johnson briefly rebuilt the lead, but Ward soon closed within 16-15. Bever hit two more free throws and Courtney Poe added another to give the Bobcats a 19-15 halftime lead — but it didn't last long.
Ward opened the third quarter on an 8-0 run and built a 23-19 lead. Bergstrom scored on a put-back and Bever buried a 3-pointer from the corner off of a driving dish by Poe. Moments later, a three-point play by Jamie Johnson put the Bobcats back on top.
BLHS took a 31-27 lead into the fourth quarter, but that wasn't safe either. Poe found Bever for an open jumper on the first possession of the fourth quarter that stretched the lead to six points. A free throw by Burns, a 3-pointer by Liddy Maurin and a steal and layup by Burns tied the game at 33-33 with 4:02 left.
A full-court press-breaking drive by Poe earned the junior point guard a trip to the free throw line. She hit one of two shots and put BLHS on top for good.
Aggressive defense down the stretch — particularly by Amanda O'Bryan on Burns — helped the Bobcats hold the Cyclones scoreless for the final four minutes and preserve the victory despite going just 5-for-15 from the free throw line in the final quarter.
Burns finished with a game-high 14 points for Ward.
Bever led BLHS with 11 points. Bergstrom and Poe had nine apiece.
The Bobcats (14-7) advance to play St. James Academy (16-5) in the substate semifinals at 7:30 p.m. Thursday at home.
Baldwin and Sumner Academy will meet in the other semifinal at 6 p.m. The winners will play in the finals at 6 p.m. Saturday at BLHS.