Council talks staff salaries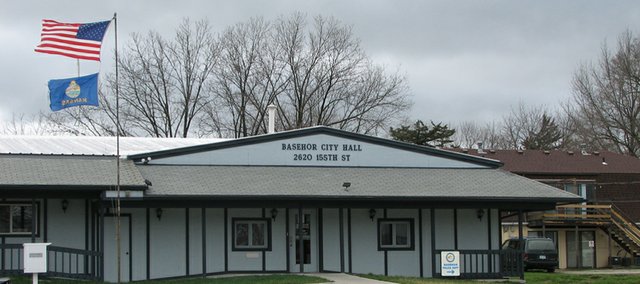 City staff wages are back on the Basehor City Council agenda.
The council discussed at Monday's work session the possibility of adjusting the wages of several employees on the city staff in order to keep Basehor's wages competitive and comparable to surrounding cities.
In December, council approved a 2 percent pay increase for all employees and requested information about neighboring cities' compensations for seven positions. City Administrator Mark Loughry said based on this research, Basehor needed to adjust its wages. He recommended increasing pay for the following seven positions:
• Senior maintenance worker. The average range from approximately 20 other cities for a senior maintenance worker is from $16.02 to $22.24. Basehor's range is $12.12 to $15.14.
• Senior wastewater operator. The average range from other cities is $17.49 to $24.25. Basehor's range is $14.43 to $18.02.
• Wastewater operator. The average range from other cities is $13.34 to $17.75. Basehor's range is $13.19 to $16.47.
• Police clerk. The average range from other cities is $12.80 to $17.54. Basehor's range is $11.48 to $14.34.
• Police-Court clerk. The average from other cities is $13.93 to $19.14. Basehor's range is $13.80 to $17.23.
• Police lieutenant. The average from other cities is $20.64 to $28.82. Basehor's range is $20.97 to $26.19.
• Animal control officer. The average from other cities is $11.77 to $16.50. Basehor's average is $11.34 to $14.16.
The total cost of increasing pay for the seven jobs would be $11,792.
Council member Iris Dysart said she was tired of the continuous discussion about Basehor needing to raise its city salaries, and she thought such an increase was unnecessary, especially after employees just received a raise.
"So these people got the 2 percent across the board that we did, and now you're proposing we give them another raise?" Dysart asked. "For seven years I've sat up here, and every year we hear this little story, 'Oh, our wages aren't high enough, we need to be competitive.' We have striven to do that, and we have made good advances in that direction. I'm tired of this coming up every year. I don't see anyone leaving."
Council member David Breuer said while salaries were no doubt important, there were many other factors in a job that possibly outweighed compensation.
"There's certainly a lot more to where people work than what they get paid," Breuer said. "There's more aspects to making a team than just wages. But we need to be fair. Wages are certainly important, but they're not the No. 1 thing. Environment is a very important thing, too."
A future solution to wage issues was offered by Mayor Terry Hill, who said it was his goal to create a portion of the city's budget dedicated to economic impact. This money allotment would cover worker pay increases, changes in insurance, etc. With such a plan, the council wouldn't need to argue about giving raises because it already budgeted the money to do so if it chose, Hill said. He also contended pay increases were extremely valuable to a city or to any business for two reasons.
"The question behind the question is 'Why do we give raises?'" Hill said. "There's two reasons: attraction of new employees and retention of existing employees. We don't talk about that very much, we talk about how we give raises. We don't talk about why we give raises."
The item will be addressed further at the March 15 regular meeting.
Also on Monday, the council:
• Discussed a change order from Little Joe's Asphalt to the 2009 pavement management plan. Some of the streets were found to be in worse condition than expected when the first layer of asphalt was removed. The total for this change order is $21,074, which still keeps the project within budget.
• Discussed renewing the city's general liability insurance package for 2010-2011.