Cultural offerings on tap at Bonner coffee shop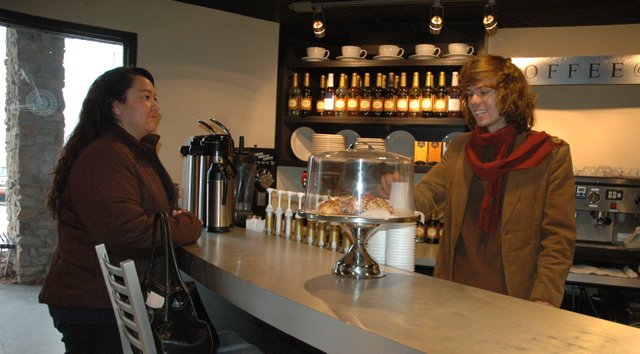 Brothers Ryan and Alec Holland, who will soon take over the ownership of Coffee at 515, are serving up well-crafted coffees with a side of culture.
"I feel I want this to be a reawakening for Bonner," said 21-year-old Ryan Holland of his plans for the coffee shop located in the lobby of the 515 office and apartment complex, at 515 Morse.
Alec Holland, who is 17, and Ryan Holland have taken over the managerial duties from their mother, Julie Holland, who owns and operates Five Fifteen with her husband, Rob. Julie Holland says eventually she will transfer complete ownership to her sons once they get the hang of the business side of things. She said she approached them about managing the coffee shop in December after Ryan returned from spending two years doing mission work in South America. Ryan, who flew in for a month last April to help get the shop opened, said that he was more than happy to help his mom out.
"Well I was interested in helping my parents out and taking some of my mom's hours and coming back, I knew I'd want to work the coffee shop more than I was (originally)," Ryan said, noting that he had worked as a barista in coffee shops before. "It's just kind of a natural thing since I'd been working coffee, and now coming back."
Ryan and Alec Holland plan to not just serve coffee, but offer live music every weekend and showcase local artistic talent in the form of periodic art exhibits. Julie Holland said this aspect of the coffee shop was something she had never explored before, but she was happy to let her sons take the lead in bringing some more cultural elements to the atmosphere.
"That's what they're going to bring to the table," Julie said. "They're going to expand what we've got going there."
In addition to music, Ryan is also adding a different way of making the coffee — French press. In this form of making coffee, the coffee grounds are pressed down into a coffee press that is filled up with hot water. Once it is done brewing, the coffee will still retain the oils from the coffee beans and a more robust flavor than the drip coffee usually served at coffee shops.
"It's a dirtier coffee, but coffee connoisseurs will prefer French press over drip," Ryan said.
He said he plans to serve both French press coffees and another, simpler, way of making coffee that will utilize a ceramic cone that steeps the coffee as it's dripped down into the cup.
"You get a cleaner coffee, but you're getting the better flavor of getting to mix it while it's (steeping)," Ryan said.
Despite their young ages, both Ryan and Alec say they are more than prepared to take on the responsibility of running a business. Alec, who is still in high school, said he was looking forward to adding this to his list of accomplishments.
"I just felt it was something that would be really neat to achieve at this age," Alec said. "I just thought it'd be really cool to own something, and me and my brother have a really good relationship, so it would be something that we could work out together."
Coffee at 515 will offer live music from 7:45 p.m. until 10 p.m. every Saturday night. A public art contest will also be starting this month. Anyone is welcome to sign up and participate. Details can be found at the coffee shop or by calling (913) 441-8515.