Exhibit chronicles Kansas literature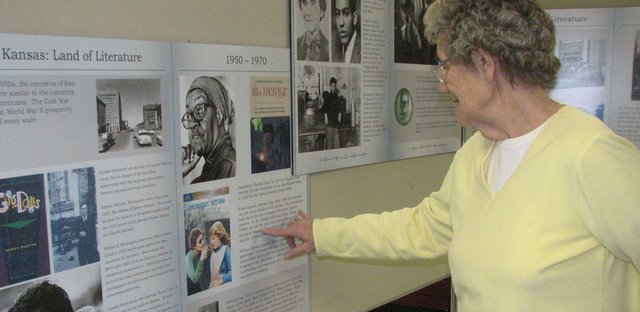 The Basehor Historical Museum has opened a new exhibit that pays tribute to the captivating history of literature in Kansas.
The exhibit titled "Kansas: Land of Literature" opened at the museum, 2812 N. 155th St., Feb. 25 and displays pictures, passages and quotes from some of the most notable writers in the state, as well as newspaper clippings and information on some of Kansas' libraries.
"Kansas has bred a lot of famous people," museum director Carla Crawford said.
Some of these famous natives of the Sunflower State include Laura Ingalls Wilder, Charles Sheldon, Damon Runyon and Gordon Parks.
Wilder is best know for her series "Little House on the Prairie," a beloved collection of books describing her childhood on the Kansas prairie. It has been said the original location of the Ingalls cabin was Independence. The tales of life as early settlers spurred the popular 1970s television show named after the books starring Melissa Gilbert and Michael Landon.
"That's a series everyone knows about," museum worker Anna Jean Breuer said of the "Little House on the Prairie" books and show. "She put a lot about Kansas into those stories."
Though Charles Sheldon was not born in Kansas, he spent much of his life in the 1880s and early 1900s in Topeka. He founded and was a pastor at the Central Congregational Church in Topeka, where he wrote a famous sermon called "In His Steps." This sermon, the exhibit explains, coined the phrase "What would Jesus do," as Sheldon's piece told a story of a group of committed Christians who asked themselves what Jesus would do if he were faced with the same trials they faced.
"That's something really interesting because that saying is everywhere," Crawford said. "It's on bracelets and T-shirts, and he wrote it in Kansas."
Two of Runyon's claims to fame were his stories "The Idyll of Miss Sarah Brown" and "Blood Pressure," which were the basis for the Broadway musical "Guys and Dolls." As discussed in the exhibit, the musical gave way to the 1955 movie starring Frank Sinatra and Marlon Brando. Manhattan was Runyon's place of birth and where his family owned several newspapers.
Parks, a Fort Scott native, wrote the book "The Learning Tree," which he turned into a movie he directed in 1968. He was the first African American to direct a major motion picture.
A few other books outlined in the museum display are "The Last Cattle Drive," a novel by Robert Day who grew up in Merriam, and the novels "Mrs. Bridge" and "Mr. Bridge," which are tales of a Kansas City family written by Evan S. Connell.
"We wanted to bring in this exhibit because it showcases Kansas history," Crawford said. "Our history is in literature and libraries, and that's what this display is all about."
"Kansas: Land of Literature" will be on display through March. The museum hours are 9 a.m. to noon Tuesdays, 1 p.m. to 4 p.m. Thursdays and 9 a.m. to 2 p.m. Saturdays.