One to go:
BLHS

girls one win away from state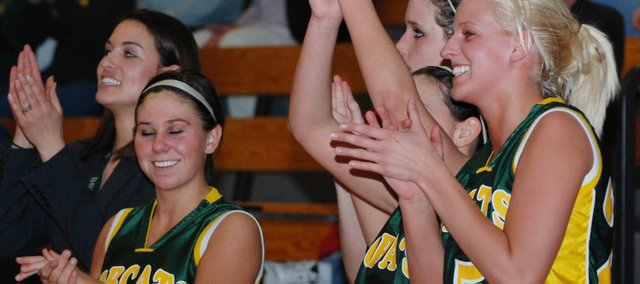 The end goal is in sight.
Photo Gallery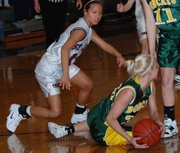 Basehor-Linwood girls 53, St. James Academy 37
Just one victory separates the Basehor-Linwood girls basketball team from a trip to the Class 4A state tournament in Salina.
The Bobcats took a big step toward that goal by beating top-seed St. James Academy, 53-37, Thursday night at BLHS in the substate semifinals.
A victory at 6 p.m. Saturday at home against Baldwin would propel the Bobcats on to state.
"They've grown leaps and bounds, and that's been the most fun part (of the season) to this point," BLHS coach Noah Simpson said, noting that the team started the season 1-4 and now stands at 15-7. "It's three years in a row in the substate championship game for these kids, and we want to do everything we can to get back to Salina. We didn't like the taste we had in our mouth last year after playing Holton (in the finals). We told the kids 'don't let this be your last loss. Let's get after it and go to Salina this year.'
"Saturday to me is nothing more than going out and having fun and enjoying what we've been working for all season."
To get to Saturday, however, the Bobcats had to get through St. James. The Bobcats used a full-court press to pester St. James into seven first-quarter turnovers. During that time, Cassy Bever hit two 3-pointers and Courtney Poe added another during a game-opening 15-4 run.
BLHS eventually led 18-8 after the first quarter.
Basehor's hot start would prove to be the difference in the game. St. James took much better care of the ball the rest of the way — the Thunder had just seven turnovers during the final three quarters combined — but they never got closer than six.
Megan Spradlin knocked down an 18-footer on the first possession of the third quarter as St. James pulled within 25-19, but Bever answered with a 3-pointer at the other end. Then Poe banked in a trey that pushed the lead back to double digits where the lead remained for the rest of the game.
Paige Brown led St. James with 10 points. The Thunder ended their season with a 16-6 record.
Bever and Poe led BLHS with 14 points apiece, Megan Bergstrom and Jamie Johnson each scored nine, Amanda O'Bryan scored five and Shelby Equels added two.
Now the Bobcats turn their focus to the substate finals and finishing the job they set out to accomplish on the first day of practice in November.
"We told the girls, 'nothing of what happened to this point matters,'" Simpson said. "'Adversity, missed free throws, missed shots, whatever the case may be, it's one game. It's just one game. Let's go out and play it.'"