Symon says state championship
Basehor-Linwood junior Seaton battles to first state championship of career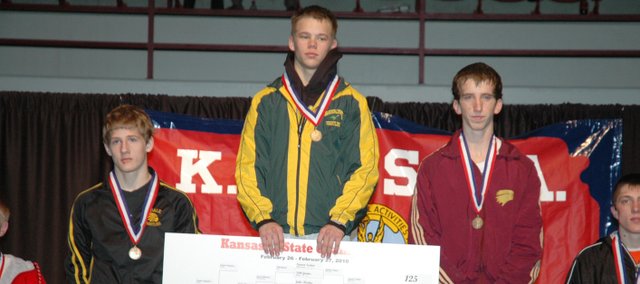 Salina — When the final buzzer sounded, Symon Seaton raised his arms to the sky in celebration and then collapsed into the arms of his father for a long embrace that was three years in the making.
Photo Gallery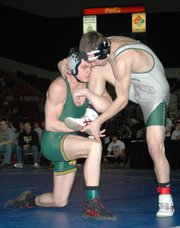 Basehor-Linwood state wrestling
Seaton was officially a state champion.
"It was awesome," Seaton said of winning the state title. "That was the best feeling I've ever had. It's so cool to finally win. I've fallen short the last two years, so it was finally good to get that title."
As a freshman, Seaton placed third at state at 112 pounds. As a sophomore, he finished sixth at 125. He reached the championship semifinals and lost a 3-1 heartbreaker before losing his final two matches in disappointing fashion.
This year, again in the 125-pound bracket, there were no let-downs. Instead, there was a disciplined, determined junior with his eyes on the gold medal.
There were no easy victories en route to the title. Seaton didn't pin any of his opponents or record a technical fall at state. It didn't matter, though, because he was consistently at the top of his game. He earned a 5-1 decision against Mulvane's Seth Gunter in the first round. Seaton's most lopsided victory came in an 8-0 major decision against Jake Mertins of Valley Center in the semifinals. Then Seaton turned in a 3-1 decision against Clay Center's Logan Sinclair to advance to Saturday's championship match.
"The first day of the tournament was hard because I had to keep my weight down and stay at my weight," Seaton said. "I had to run quite a bit (Friday) night to make weight, but it's all worth it. It was a little hard, but no one said it would be easy."
As a finalist, Seaton had all day Saturday to relax and prepare for the championship match against Brett LaMar of Silver Lake. A senior with just two losses, LaMar was expected to give Seaton a mighty challenge — which he did.
Still, Seaton was ready.
"I'd say I was more nervous before the semifinals match, because I just wanted to make it into the finals," Seaton said. "I couldn't have been more pumped up for the finals. I was ready to get out there and win."
Seaton scored an early takedown of LaMar, and the momentum carried Seaton through every twist and turn the rest of the way.
"It helped quite a bit," Seaton said of getting an early 2-0 lead in the finals match. "They say if you can get the first takedown, it's a little mental block for your opponent because you have the first points."
LaMar hung tough throughout, but Seaton held on for a 6-5 decision. Then it was time to celebrate. While most wrestling state champions leap into the arms of their coach, Seaton shared the moment with his father — first-year BLHS wrestling coach Ed Seaton.
"I practiced a lot harder than I have in previous years," Seaton said. "Having my dad as the coach really helped me work harder and push myself harder."
Seaton finished the season with a 34-2 record. His career record is 96-15.
Four other Bobcats also competed at state but did not medal. Junior 103-pounder Mike Torrez (22-8) went 1-2. Senior 160-pounder Joe Johnson (30-9) went 1-2. Sophomore 130-pounder Tyler Simpson (17-13) went 0-2. Sophomore 135-pounder Derek Pike (27-15) went 0-2.
— Sports Editor Chris Wristen contributed to this report.