Wristen: Basketball history runs deep in old Basehor-Linwood Middle School building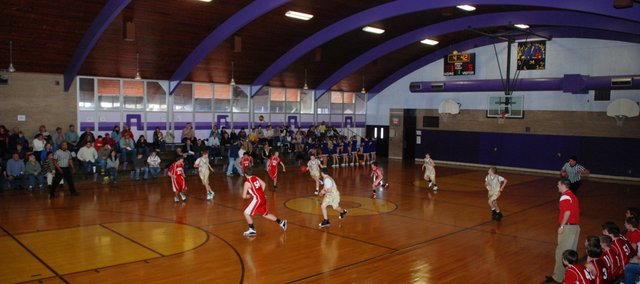 The beauty of old buildings is that they have character.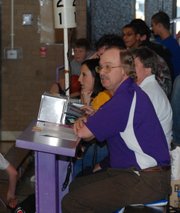 Their designs tend to tell us something about the time period they were built, almost as if they're asking us to dig a little bit deeper. There's history within the doors just waiting to be discovered.
That was the sense I got Thursday afternoon as I pulled up next to Basehor-Linwood Middle School in Linwood. I'd driven past it before but never stopped to look inside. I'd been invited by BLMS Athletics Director Tom Cooper to stop by when the seventh- and eighth-grade boys basketball teams played the final games in the school's old gym.
A new middle school building is slated to open in the fall, meaning the old gym in Linwood will soon grow quiet.
Cooper took me on a tour of the building, which originally was Linwood High School. Sure enough, behind every door and hidden in every nook and cranny, signs of sports history revealed themselves.
Cooper knows some good basketball was played in the gym, but he isn't certain of the entire historical record.
"I know (Linwood) went to state in girls basketball; they might have in boys," he said. "But I don't think they had any state championships. This building was built in 1920, so technically 90 years of basketball have been played in this building."
First, we walk down the main hallway toward the library. Cooper stops me in my tracks and asks me to look around and use my imagination. Here, he says, is where the original Linwood High basketball court used to be. This hallway and these classrooms didn't exist at the time. In fact, the court was below us in the basement. From where we stood, we would have been looking down at the old gym.
Cooper told me the original court lasted for a long time, but flooding in the 1990s damaged it beyond repair, and it was eventually removed.
Later, we walked down the original staircase that used to lead to the court. Now it takes us to another hallway and classrooms. We wandered through a classroom, and Cooper pointed out an elevated ledge against the wall that used to be the gym's stage.
What once was a gym with decades of basketball history has been transformed into a full-service learning center for years.
The last 48 years of basketball have been played in the current BLMS gym, which was built in 1962. High school kids played there first, but it became the home of Bulldog basketball after Basehor's and Linwood's high schools consolidated in 1988. It's an old-school fieldhouse with a rounded roof that's designed to magnify the crowd noise. It was a rockin' place as a high school, and on this day the middle school students, parents and boosters were making it shake.
Cooper has been the school's only AD, having been there since 1988 coaching football and basketball. He talks about the opportunities that were created in the building, from the addition of girls volleyball at the middle school level starting in 1988, to the yearly basketball tournament, to the all-school assemblies, musicals and band concerts.
Numerous great players have graced the gym court before going on to help Basehor-Linwood High win Kaw Valley League championships and state titles.
The Bulldogs lost on Thursday — the seventh-graders fell to Tonganoxie, 41-30, and TMS beat BLMS in the eighth-grade title game, 41-36. Barring unforeseen circumstances, it will no longer hold another middle school sporting event. Still, just as the history of Linwood High lingers in the hallways, the memories of the middle school will remain, and the building's character will continue to evolve with time.