Hello, Salina!
Basehor-Linwood girls hold off Baldwin, earn trip to 4A state tournament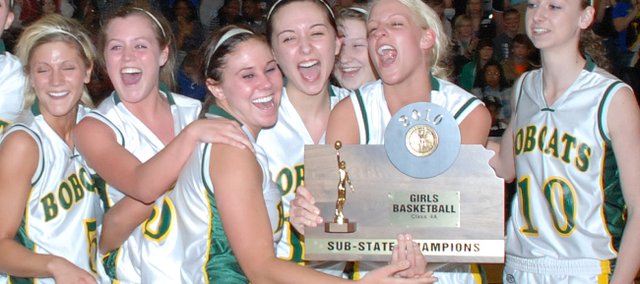 Since the first day of practice in November, the Basehor-Linwood girls dreamed of this day.
Photo Gallery
Basehor girls win substate title
The Bobcats began the season with one goal — earn a trip to the Class 4A state tournament — and they were on the cusp of making that happen Saturday night at the BLHS gym.
Now that the opportunity was here, they were nervous.
It showed throughout the first half of the substate championship game against Baldwin. The Bobcats trailed for most of the first half, but they refocused for the final 16 minutes and secured a 46-37 victory and a trip to state.
"I think we were all kind of nervous. We wanted to win this game real bad," junior forward Megan Bergstrom said. "We stepped up. We were real tight at the beginning, but we got it done."
A shaky start threatened Basehor's state hopes. The Bobcats missed their first seven shots of the game and fell behind 4-0 before coach Noah Simpson called a timeout.
"Oh, there was no doubt (they were nervous)," Simpson said. "We called a timeout when we were down 4-0 and just told them to relax. 'It's the same game it's always been. It's played within the lines. Don't worry about anything else.'"
Immediately out of the timeout, the Bobcats went to work. Junior point guard Courtney Poe dished three straight assists — two to Bergstrom for baskets inside and another to senior Cassy Bever for a 3-pointer. Suddenly BLHS led 7-6, but Baldwin countered with a hook shot from Allison Howard and took an 8-7 advantage into the second quarter.
A cold start to the second quarter saw the Bobcats fall behind 17-11. If not for their aggressive full-court trapping press that forced five turnovers in the quarter, the damage might have been worse.
Still, the Bobcats didn't panic. Instead, they attacked the basket, drew fouls and knocked down free throws. A 3-pointer by Poe gave the Bobcats a 19-17 lead, and two free throws by Bergstrom stretched the lead to 21-17. A trey by Baldwin's Kailyn Smith at the buzzer whittled the BLHS lead to one point at halftime.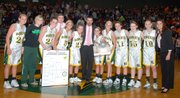 Unlike the chilly start to the first half, the Bobcats were on-target with their first shot of the second half. Bergstrom drew the defense in and kicked a pass outside to Bever who, like she's done all season, buried a timely 3-pointer to jump-start the BLHS offense.
"I felt like I needed to deliver," she said, "but I just try to shoot when I'm open."
The teams traded baskets on the next two possessions, and then Smith converted a four-point play to tie the game at 26-26. Moments later, Ramie Burkhart sank a free throw and gave Baldwin a one-point lead. It would be the Bulldogs' final lead of the game. Bergstrom scored on a put-back on the ensuing possession. Then Bever had a steal at midcourt and took it in for a layup. Three possessions later, Poe grabbed a rebound and fired a long touchdown pass to junior Shelby Equels for a layup that capped a 6-0 run and sent the Bobcats into the fourth quarter with a 32-27 lead.
With a state tournament berth within reach, the Bobcats turned to Bergstrom to carry them home. They repeatedly fed the ball to her early in the fourth quarter. If double-teamed, she'd kick it back out to the guards. If not, she'd power her way to the bucket. She scored on a nice feed by Bever early in the quarter and later scored on a put-back that gave BLHS a 36-31 lead with 3:44 to go. Baldwin countered with a pair of free throws by Katie Kehl and a layup by Allison Howard to draw within a point with 2:11 to go.
Again, the Bobcats looked to Bergstrom, and she continued to deliver. First, she scored on a power move after receiving an inbounds pass. Then she drew fouls on back-to-back possessions and sank three free throws.
"Every time I pass it I know she'll do it; she'll get it done," Poe said of her confidence in Bergstrom.
Later, Poe added a free throw and Equels hit four in a row to ice the victory.
In all, BLHS made 8 of 10 free throws in the final 1:16 and closed the game on a 10-2 run.
Smith and Allison Howard each scored 11 points to lead Baldwin (15-8).
Bergstrom led Basehor with 22 points and Bever had 10. Equels scored six points, Jamie Johnson had two, and Poe scored six to go with a game-high seven assists.
The Bobcats improved to 16-7 with the victory, and now they are headed to the state tournament. They've come a long way since losing four of their first five games to start the season.
"We definitely struggled a little bit early on, and we're glad we did," said Simpson, Basehor's third-year coach. "We'd much rather go 1-4 early on than go 1-4 late in the season. I told the kids it's hard not to be choked up in (the locker room). I walked in and just said 'I am so proud of you guys.' We've coached three teams now with two teams going to state, and this group was so hard-fought to get there.
"We faced so much adversity this year. We've got a sophomore starter (Cara McCarty) sitting on the bench in a (arm) wrap. Amanda O'Bryan is out for two and a half months and then comes back for substate, and we just have kids stepping up. We struggled with free throws earlier in the week and then we go out and just hit every free throw we can put up tonight. (It's) kids just playing hard and competing and really wanting to achieve that goal that we talked about back in November, which is to reach state and try to make a run at the state championship."
Basehor enters state as the No. 8 seed. The Bobcats will face No. 1 seed Concordia (23-0). The Panthers are the defending state champions and won an undefeated title last year. They will take a 49-game winning streak into the 6:30 p.m. Wednesday first-round game at the Bicentennial Center in Salina.