BLHS

girls to play defending champs today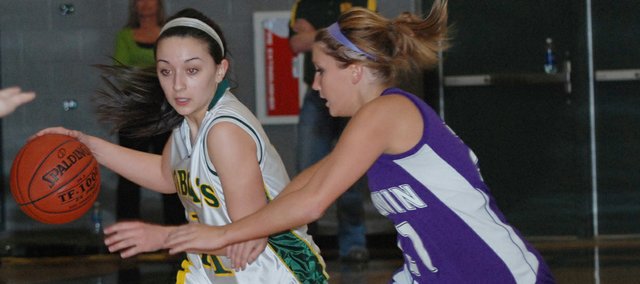 Salina — It takes little more than a glance at the bracket to see that the Basehor-Linwood girls have their hands full with Concordia in their first-round game at the Class 4A state tournament.
The Panthers enter the game with a spotless 23-0 record and are the tournament's top seed despite squeaking past Silver Lake by just two points in the substate finals. Look a little deeper and you'll see that they're also the defending state champions. They're shooting for their second straight undefeated season and have won 49 games in a row entering the first-round game against BLHS at 6:30 p.m. today at the Bicentennial Center.
The Panthers also are led by 5-foot-7 senior point guard Karly Buer, a Missouri State signee who came up huge for the Panthers during last year's title run.
It's worth noting that Concordia isn't the only undefeated team at state, though. In fact, three teams bring unblemished records to state. There were two undefeated teams at the 4A tournament last year and one was knocked out in the first round by the eighth seed.
This year's No. 8 seed — Basehor-Linwood — enters the tournament with plenty of confidence, too.
The Bobcats (16-7) have won 15 of their last 18 games. They're also battle-tested, having played Class 5A state title favorite St. Thomas Aquinas in the season-opener and also taken 4A state tournament team Ottawa to the wire during the Basehor-Linwood Invitational when the Bobcats were shorthanded.
The winner of the Basehor-Concordia game will advance to play at 6:30 p.m. Friday in the state semifinals against either Ottawa (21-2) or Girard (22-1).