Live from Salina: 4A state tournament updates
Bobcats hang tough, fall to Panthers 45-38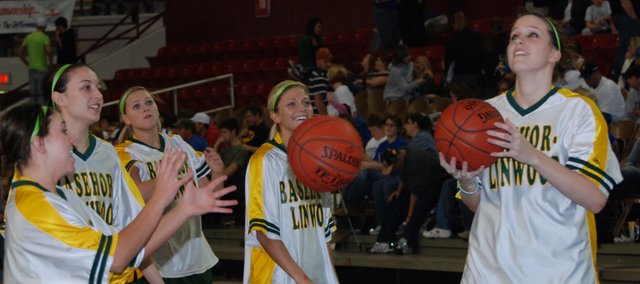 Salina — FOURTH QUARTER UPDATE
Photo Gallery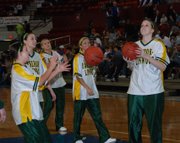 STATE: Concordia 45, Basehor girls 38
Basehor-Linwood rallied in the fourth quarter to tie the game at 34-34 and 36-36 before Concordia slowly pulled away. The Bobcats trailed just 41-38 with 17.7 seconds to go, but the Panthers hit free throws in the closing seconds to pick up a 45-38 victory and advance to the state semifinals.
It was the Panthers' 50th straight victory, but it was anything but easy.
A full recap of the game, as well as photos and video are coming later tonight. Please check back soon.
THIRD QUARTER UPDATE
Basehor jumped out to a 25-20 lead with 3:15 left in the third quarter, but a 10-0 run by Concordia turned the game around. Cassy Bever hit a pair of free throws in the closing seconds to cut the Panthers' lead to 30-27.
HALFTIME UPDATE
The Basehor-Linwood girls have surprised many in attendance so far and forced a 19-19 tie at halftime against defending state champion Concordia.
After battling to a 10-10 tie after the first quarter, the teams traded baskets for ties at 12-12 and 14-14 before a hook shot by Paige Champlin, a Champlin free throw and a steal and coast-to-coast layup by Karly Buer gave Concordia a 19-14 lead with 3:20 left in the half. Basehor answered with a turnaround jumper by Megan Bergstrom, a backcourt steal and layup by Amanda O'Bryan and a Bergstrom free throw forced a tie entering halftime.
FIRST QUARTER UPDATE
Basehor-Linwood has been anything but intimidated by Concordia and its 49-game winning streak.
The Panthers took a 2-0 lead one minute into the game, but Shelby Equels answered with a 3-pointer — her first of two in the quarter — and a back-and-forth affair has followed ever since.
Equels scored six points in the quarter and the game was tied 10-10 after the first eight minutes.
In fact, Cassy Bever hit a 3-pointer that left her hand just after the buzzer sounded or the Bobcats would have led after the opening quarter.
6:42 p.m. update
OK, it's game time. I will post quarterly updates because I will be away from the computer shooting photos during the game.
6:36 p.m. update
About 10 minutes until tip-off. The format will be that both teams will be introduced, non-starters, starters and coaches.
Then the game will tip off at about 6:45 p.m.
The Bobcats looked relaxed during warm-ups, but Concordia appears ready to go, too. I haven't seen Panthers star point guard Karly Buer — a Missouri State signee — miss a shot yet.
Both teams just left the court to have final team meetings in the locker rooms before the game starts.
6:25 p.m. update
Cheney has advanced to the Class 4A state semifinals with a 60-36 victory against Towanda-Circle.
Basehor-Linwood and Concordia now are on the court going through warm-ups. Tip-off is about 16 minutes away.
6:12 p.m. update
Cheney has just called a timeout with 2:54 to go in the game and a 56-36 lead against Towanda-Circle.
Cheney is well on its way to meeting Holton in a Friday semifinal matchup that will pit a pair of undefeated teams head-to-head.
Meanwhile, the Basehor-Linwood girls headed to the locker room at the end of the third quarter to make final preparations for their first-round game against defending Class 4A state champion Concordia.
The first few Basehor-Linwood fans began trickling into the Bicentennial Center moments before the Cheney-Circle game began. Now, quite a few green-clad Bobcat fans are filling the upper sections of the stands while they wait to move down to floor level for the next game.
5:50 p.m. update
Cheney leads Towanda-Circle, 43-24, with 3:35 left in the third quarter of game two.
The Basehor-Linwood girls are in the building, though, and sitting a few rows up from the court observing before they'll take their customary trip to the locker room once the quarter ends to prepare for their upcoming game.
The Bobcats spent halftime of the Cheney-Circle game shooting around and looked relaxed as if they have nothing to lose — and they really don't, considering they're playing the defending state champions who have a 49-game winning streak intact.
4:37 p.m. update — Holton takes out Hesston
Good afternoon from the Bicentennial Center and the Class 4A girls basketball state tournament.
Eighth-seeded Basehor-Linwood (16-7) will be taking on No. 1 Concordia (23-0) at approximately 6:30 p.m. today in the third game of opening day.
Game one just ended with No. 2 Holton (24-0) taking down No. 7 Hesston (27-7), 54-44. Hesston led for most of the first quarter, but Holton's pressure defense helped turn the game around. After taking an undefeated record into the state tournament before falling in the first round last year, Holton will advance to the championship semifinals this year.
Rylie Bowser led Holton with 12 points and Sydney Strader added nine. Mallory Schroeder of Hesston led all scorers with 18 points and Samantha Short scored 12.
No. 3 Cheney (23-0) and No. 6 Towanda-Circle (19-4) are up next. Both teams are on the court warming up and will tip off in about 15 minutes.