Company owner deems Marble Crazy a success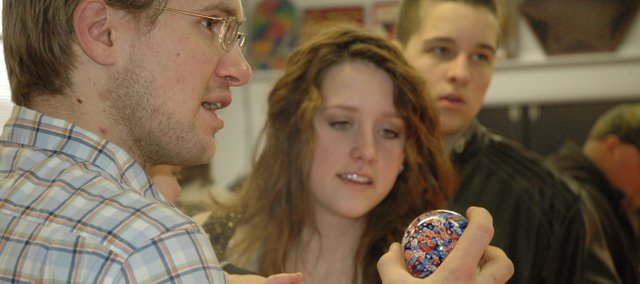 Marble artists from across the country were at the top of their game Saturday, showing off their art for hundreds of people to see.
As the 10th annual Marble Crazy event at Moon Marble Company in Bonner Springs kicked off its second day Saturday, a line quickly formed outside with people waiting to see some of the most renowned glass artists of the time.
Standing by as glass artist Jes Durfee, Duluth, Minn., took the spotlight was Lawrence resident Kara Holcomb. With her young daughter in her arms, Holcomb looked on, wide-eyed, as Durfee sculpted a small marble using two glass rods.
"I think it's really neat," Holcomb said. "I had no idea how (marble making) was done. I had never thought about it much, but it's very cool."
Holcomb, who has never been to a Marble Crazy before, found out about the event from her friend, and said until that day, she didn't even know Moon Marble Company existed.
"I've lived in Kansas for years and never knew," she said. "I think it's really awesome. All the old toys are neat, and I didn't know how many different kinds of marbles there were."
Marble Crazy 2010 opened to the public Friday and continued Saturday with 24 different artists showcasing their talent.
Bruce Breslow, co-founder of the Moon Marble Company at 600 E. Front St., said he considered the 10th anniversary of his Marble Crazy event a success.
"I thought everything went really smooth this year," he said. "A good amount of people came in."
Breslow estimated nearly 2,200 people visited Marble Crazy this year. He said next year, it might be necessary to open another area of the company's downtown building to create more space for demonstrations and visitors during Marble Crazy.
"I was happy," he said. "The artists had a good time. They had a lot of fun meeting each other, watching each other work. Everyone learned new techniques and were enthusiastic to go home and try new ideas."
There Saturday, also for the first time, was Debra Hisle, of Leawood, and her children. She said she received word about the event through her parents and decided to attend.
"I thought it would be awesome for the kids," she said.
Her first year wasn't a disappointment, either. Hisle said she had never been to Moon Marble Company but was impressed with everything she saw that day.
"It's amazing. The marbles are absolutely gorgeous works of art," she said.
As several artists were featured throughout the day, visitors of Marble Crazy were able to stand by and ask questions while marbles were being created.
Different artists used various techniques during the event for their creations, ranging from glass sticks and a torch to glass blowing and even a marble-making machine.
Father and son duo Geoffrey and Nick Beetem, of Athens, Ohio, revealed their careful craft to a large crowd that had gathered to sit and watch in awe above them in rows of stadium-like seats.
Geoffrey, who is a master glass artist in the use of dichroic glass, was showing his glass-blowing technique of marble making.
At another demonstration station earlier in the day, Drew Fritts, of Springfield, Mo., showed Marble Crazy goers how he made his signature brightly colored marbles covered with swirling designs.
As he quietly concentrated, head bent over his forming creation, the skill it takes to create such a piece of art was clear to see.
"That's how a marble is made. Now you can go home and try it yourself," Fritz joked at the end of his demonstration.