Joint Chiefs chairman touts leadership, family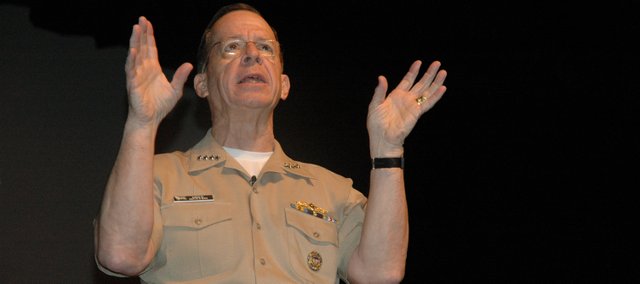 Fort Leavenworth — In a speech addressing an auditorium full of Command and General Staff College students Thursday, March 4, Joint Chiefs of Staff chairman Adm. Mike Mullen talked about stepping up to the plate as leaders and also making family a top priority.
"Families have always been critical to us as a military, but never as much as since 9/11," Mullen said to the audience gathered Thursday morning in the Eisenhower Auditorium of the Lewis and Clark Center at Fort Leavenworth. "They are integral to our success and we would not be in a position that we are right now (in Iraq and Afghanistan) without our extra family support. So I ask you to go home tonight and actually tell that to your families."
Recalling a speech he made just the day prior at Kansas State University, Mullen said there were three main principles the military needed to focus on in the 21st century: One, the military should never be the last resort in any conflict; two, military force should always be applied in a "precise and principled" way so as to avoid as many civilian casualties as possible; and, three, a balanced, but ever-changing, relationship between policy makers and commanders in the field must be maintained; a relationship that demands strong involvement in the strategic decision-making process from both agencies.
On this last principle, a question from the audience was raised about whether Mullen was promoting a sort of infringement from lawmakers on a commander's authority. Mullen said it was more a matter of working together; of utilizing all available resources toward the goal of seeing an end to the conflicts in Iraq and Afghanistan.
"The military cannot do this alone. We can't succeed alone," Mullen said. "We are necessary but we aren't sufficient."
We are living in a time of change, Mullen said, and every military personnel should be thinking about how they will use their positions as leaders to address those changes. He asked the audience members, many of whom had formerly been deployed, to consider how their leadership skills would have to be modified if and when they return to war.
"What is most difficult is when leaders step up in the toughest of times," Mullen said. "How are you going to be a better leader when you get back out there?"
Mullen talked about leadership also in terms of how it affected others, asking the students to remember how they got to this point in the first place.
"And when I focus on leadership, more than anything else, I focus on those we care about the most, those we influence in our leadership," Mullen said. "And it's every aspect of it — making sure they're OK, making sure they're being treated like you'd like to be treated, making sure they have a future, making sure somebody is mentoring him. You got here and succeeded because somebody made a difference in your life … this model will only sustain itself … if you figure out how to bring someone along behind you as someone did for you."
Mullen opened the floor to questions from the audience, which ranged from whether the North Atlantic Treaty Organization was still a useful tool in times of war to how the military would respond to the inevitable internal conflicts that would arise should President Obama make good on his promise to end the "Don't Ask, Don't Tell" policy. Mullen said his opinion of the policy itself was that it undermined one of the main tenets of the U.S. Armed Forces: integrity.
"Fundamentally for me, in an institution that treasures and values integrity, I cannot match (the 'Don't Ask, Don't Tell') policy that we have … with an institution, for individuals or with an institution, that values integrity by essentially having individuals who fight every bit as well as anybody else, who die just like many others, who make a big difference, who want to make a big difference, and certainly have, and then be essentially excluded because of their sexual orientation … and essentially have to live a lie," Mullen said.
Personal opinions aside, Mullen said this was the current law and there were still several components of changing the law that needed to be considered, chief among them being the impact such a change would have on the military itself. But he said the "reconciliation of personal beliefs" in regards to the "Don't Ask, Don't Tell" policy lay in the hands of those sitting in front of him.
"You have to do that. You have to make a decision about, is this an institution you want to serve in based on the things that we stand for. I would never, and could never do that for you," he said. "Openness and honesty on your part, participation on your part, is really going to be important to make sure we get this right."
On NATO, Mullen said the organization still had a formidable future, especially with "42 other countries with troops in Afghanistan." He said NATO's involvement in Afghanistan had been a sort of test run for an organization taking part in something "it wasn't originally built for."
"But NATO, like many organizations and institutions, they're working their way through to what does NATO look like in the future? What does that mean?" he said.
An audience question on balancing work duties with personal and family responsibilities allowed Mullen, who is a prostate cancer survivor, a chance to discuss the importance of not working when the opportunity arises. He asked those in the audience who had returned from a deployment how long it had taken them to become close to family members once they returned. Several students shouted back, "a year," which helped to illustrate Mullen's point that taking time out was equally as important as serving one's country. With conditions like post traumatic stress syndrome so common among members of the military who have served in a war, he said personal health must also be at the forefront.
"You've got to take care of yourself. Everyone of you is an extremely valuable asset, resource, person, leader," Mullen said. "We get 30 days (leave) a year. We ought to take it."
Maj. Ryan Ellis, who attended the speech, said it was Mullen's thoughts on leadership that rang the most true for him.
"I thought (Mullen's speech) was very good. It provided a lot of vision, specifically in leadership and the importance of leadership," Ellis said. "And to broaden your leadership beyond your capabilities; to assess yourself."