Panthers escape Bobcats in final minutes at state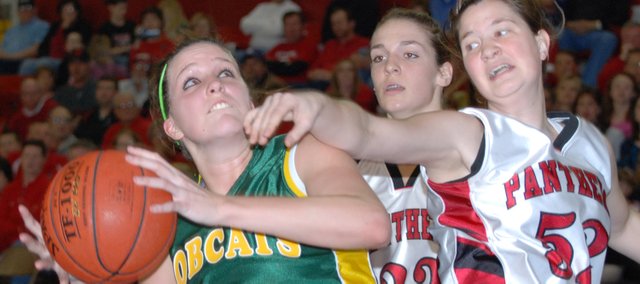 Salina — Concordia's winning streak reached 50 games and Basehor-Linwood's time at the Class 4A girls basketball state tournament came to an end Wednesday night at the Bicentennial Center — but neither came easily.
Photo Gallery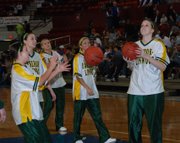 STATE: Concordia 45, Basehor girls 38
Concordia had to fight tooth-and-nail to escape with a 45-38 victory, and Basehor did everything within its power to prolong its season by a few more days in a back-and-forth battle where neither team was able to get any breathing room.
Neither team led by more than five points until Karly Buer sank two free throws with 3.7 seconds left for the game's final points.
Concordia improved to 24-0 this season and took another step forward in its quest to match last year's 26-0 record and state title.
BLHS ended its season with a 16-8 record.
"We understand Concordia's now won 50 games in a row, they're the defending state champs, they're obviously a very good ball team," Basehor coach Noah Simpson said. "But after playing Aquinas and playing some of those teams (during the regular season), we're not going to count ourselves out against anybody. We might still get beat, but we're going to give you the best shot that you've seen, and I think our kids did that."
Concordia coach Derek Holmes certainly noticed the Bobcats' effort, and he commended them afterward.
"Basehor gave us everything we wanted; that's for sure," he told reporters after the game.
The Bobcats brought it from the beginning.
Concordia took a 2-0 lead on a layup by Skyler Muff, but Basehor countered with a 3-pointer by Shelby Equels. Moments later, Courtney Poe scored on a layup and BLHS led 5-2.
The Panthers rallied for a 10-7 lead, but Equels buried another 3-pointer late in the quarter and the teams ended the first period tied at 10-10.
The teams traded buckets to start the second quarter and were tied at 12-12 and 14-14 before Concordia used a 5-0 surge to take its largest lead of the half. Basehor quickly countered with a turnaround jumper by Megan Bergstrom, a backcourt steal and layup by Amanda O'Bryan and a free throw from Bergstrom to force a 19-19 tie at halftime.
The Bobcats opened the third quarter on a 6-1 run and took their largest lead of the game at 25-20 on a put-back by Bergstrom with 3:15 left in the quarter. Concordia countered with a 10-0 run, however, and charged into the lead before two free throws by Cassy Bever cut the deficit to 30-27 entering the fourth quarter.
The Bobcats continued to battle back. Back-to-back baseline jumpers by Bergstrom tied the game at 34-34 with 3:45 to go in the game. Concordia answered with a short jumper by Muff, but BLHS responded with a layup by Equels that tied the game at 36-36.
A 5-0 run by Concordia gave the Panthers a 41-36 lead, but two free throws from Poe whittled the deficit to three with 17.7 seconds to go. That was as close as the Bobcats would get as Chelsie Monzon and Buer each sank a pair of free throws to ice the game.
Despite the loss, Simpson said he couldn't have been more proud of his team.
"I'm looking up there and seeing a 36-36 ballgame (with three minutes to go), and I just thought, you know … we led in the third, we just did so many good things. I hope the one thing that everybody here, our fans, the community, and even the state saw that we're going to go out and compete and we're going to play hard. I think when you do that — and the kids really put all that effort and hard work into it — really good things come out of it. To finish the season 16-8 and you lose to Concordia who's now 24-0, I can't complain at all. I am just so proud of these kids. They won 15 of their last 19 games. They just really turned it on and just did an excellent job all year."
Buer and Paige Champlin led the Panthers with 11 points apiece. Bergstrom scored a game-high 19 points to lead Basehor and Equels added eight.
For more about the game, pick up next week's edition of The Sentinel.