Wyandotte 4-H'ers top shooters at weekend match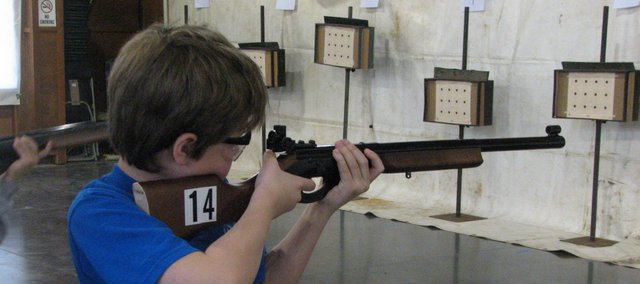 Thirteen-year-old Hannah Reynolds describes the experience of holding and firing a gun to be a rush of excitement; one that teaches her valuable skills like self-discipline and goal-setting that can be used in other areas of her life.
But Reynolds isn't the only one who feels this way. In fact, Camp Naish brought in more than 160 4-H'ers last weekend from 10 different counties that would agree with Reynolds wholeheartedly.
The event was the 2010 northeast regional 4-H shooting sports match Saturday and Sunday at the camp. 4-H members from counties including Wyandotte, Leavenworth and Nemaha were in attendance. The weekend's match was split into two: with the BB gun competition, for ages 8 to 14, going on Saturday, and the air rifle competition, for ages 12-18, going on Sunday.
In both matches, it was the Wyandotte County teams that shined the brightest, taking first place overall. In the BB gun competition, team members Lydia Paterson, Hannah Reynolds, Allison Augustine, Michaela Augustine and Heidi Rodgers garnered a total of 1,871 points. In the air rifle competition, team members took home a total of 2,003 points. Team members were Lydia Paterson, Caleb Paterson, Derek Rodgers and Aislin Reynolds.
"I felt proud to be representing my county, and I felt really proud of myself for reaching my goal," Reynolds said of her performance in the air rifle competition, noting her goal had been to garner at least 500 points. Her total score was 601, and Reynolds also took home three medals, including a third-place medal in the standing position and a second-place medal in the kneeling position.
Ron Letcher, who helped organize the event, said he really saw something in the Wyandotte County team this time around he hadn't seen before.
"For many years our kids were finishing second or third or fifth, and we have finally put together the type of training and the mental training to get them to start shooting very well," he said.
Though this was also a state-qualifying match, all those on the BB gun team had already qualified in an earlier match to go on to the state match in Wichita on April 17 — last weekend's was the fifth match both teams had participated in already this year. Letcher said, for the young people involved, it wasn't just about winning every match, however.
"There's a lot of camaraderie that's developing among the other teams and us," Letcher said. "I mean, people are not coming just to win, they're coming to visit and, you know, see what's going on. They just really like to come and visit with us."
Of course shooting an almost perfect score, as Lydia Paterson did in the BB gun competition, is a nice perk. Out of four positions — kneeling, standing, prone or laying on the ground, and kneeling — each shooter is asked to shoot a card containing 10 bulls eyes with a total of 100 points. Lydia Paterson shot a 99 out of 100 in the prone position.

But aside from making friends and doing well in each match, the 4-H'ers say they simply enjoy shooting a gun. Unbeknownst to some of them, they are, in their own way, helping to raise the negative stigma attached to guns.
At 15 years old, Derek Rodgers understands this. Prior to the air rifle match he participated in, he talked about the mental strength he had learned from participating in shooting sports for six years.
"And it's taught me that guns aren't as bad as everyone makes them seem," he said. "It's the people with the guns."