Wyandotte County Lake's fishing season to open this weekend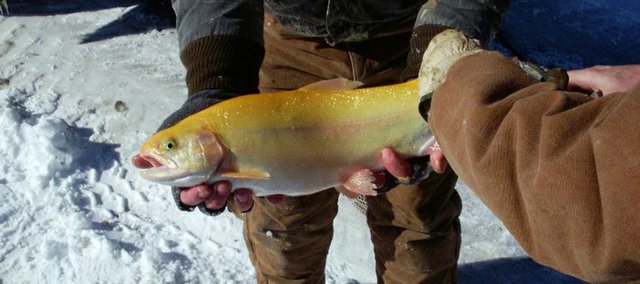 Wyandotte County Lake will officially open for the fishing season Saturday, March 13.
The lake were previously scheduled to open March 6, but due to freezing of the lake the opening was reschedule this weekend for safety concerns according to Parks and Recreation Director Gary Salva.
"The Department and Marina operations is anxious to get the season underway," Salva said.
An elusive "Golden Trout" brings some added excitement to the lake this year. The lucky angler who catches the Golden Trout will win ore than $4,000 worth of prizes. In addition to the Golden Trout, 16-thousand pounds of Rainbow Trout and 15,000 pounds of Channel Catfish were delivered to Wyandotte County Lake.
Don't forget to bring your appetite. The Leavenworth Road Association will play host to a Biscuits and Gravy Breakfast from 7 a.m. to 11 am. and the Friends of the Lake will have a Fish Fry from 3 p.m. to 7 p.m. Both events are fundraisers to support future community events and will be held at Davis Hall.
"Good luck to all of the trout fisherman trying to catch the elusive 'Golden Trout,'" said Salva.
The fishing season is from March 13 to Nov. 30.