Commission approves of Theno Estates annexation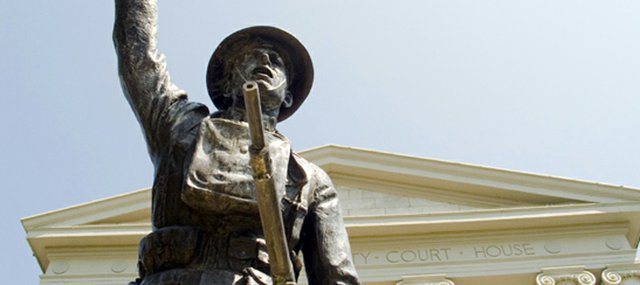 Three properties in the Theno Estates subdivision are one step closer to becoming part of Basehor.
At Thursday's Leavenworth County Commission meeting, the board voted, 3-0, to submit a decision to the city of Basehor that entering into an island annexation with the Theno properties would not hinder the growth of Basehor or that of any other incorporated city in the area.
In December, the Basehor City Council received a request from developers of the land, Brooke-Lynne Development and Howard Theno and Sons Builders, to annex the properties in the subdivision, which already uses the city's sewer system. Four additional properties are included in the subdivision, but the owners of these properties do not wish to annex into the city at this time. Theno had previously made the same request of the city several years earlier, but no action was taken in response.
The council voted at its Jan. 25 meeting to request the county commission to determine if annexing the lots in Theno Estates would be detrimental. The council's vote was in opposition to the course of action recommended by City Administrator Mark Loughry. Loughry told council members city staff did not believe the financial benefits of annexing Theno Estates were sufficient enough to take on the added costs of the subdivision's street maintenance, snow removal, etc. Also fueling Loughry's hesitations in the matter was the lack of a full voluntary annexation. Several properties will receive certain city services without paying city property taxes, Loughry said.
The county commissioners shared some of Loughry's concerns Thursday morning, as they discussed possible confusion the four remaining properties might cause.
"I think having the city provide services for (the four houses not annexed) and not be subject to annexation would be really inequitable and unfair," Commissioner Clyde Graeber said. "Is it fair to those who have been annexed and are paying the load to go in saying, 'Oh, we'll provide the same services to these four?'"
Commissioners John Flower and J.C. Tellefson agreed it could be looked at as unfair and could cause confusion with city services. But they said time would only make it more difficult to annex this land that would likely be the site of future development.
"Had the request been honored (several years ago), we wouldn't be having this problem," Flower said. "Had the request been honored even at a later date, we probably wouldn't be having this problem. It's never, ever going to get easier to annex this. If this in fact matches our comprehensive plan, and I believe it does, and if there is some trouble associated with it, so be it."
Tellfson echoed Flower's thoughts.
"The reality is, if we don't annex this right now, it won't get annexed for another 20 years," Tellefson said. "It made sense for Jeff (Theno) to ask for this annexation years ago when no one was out there."
Also at Thursday's meeting the commission:
• Heard a comment from Glenwood Estates resident Larry VanFleet, who proposed an alternate route for the sewer district 3 sewer lagoon decommissioning.
• Approved, 3-0, the minutes of the March 8 meeting.